Affiliate Disclosure: The links on this page are links to affiliates where we may earn a small referral fee if you buy something from them. Thanks for helping support our service!
Free Online Event
Mindfulness & Meditation Summit
May 19-22, 2020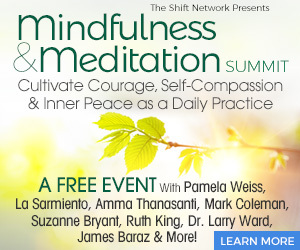 This heart-centered gathering will feature more than 25 incredible dharma teachers — including Pamela Weiss, Suzanne Bryant, Dr. Nitin Ron, Mark Coleman, James Baraz, Ruth King, Amma Thanasanti, La Sarmiento, Dr. Larry Ward, and many more.
They'll be sharing numerous ways to gradually build up your core resiliency and presence over time — discovering the skills to shift from states of feeling powerless to states of surrender and openness.
This online gathering is designed to help you access your innate, authentic way of being in the world, embodying compassion, courage, and presence with every action. Prepare to be nourished and renewed!
RSVP here for the Mindfulness & Meditation Summit — at no charge
During this 4-day heart-centered event, you'll discover:
How mindfulness can help you alchemize rage and glean the spiritual gold that lies beneath it
Restored peace, renewed compassion for yourself and others, and greater tolerance of uncertainty and the unknown
The feminine aspect of the Buddha's awakening, dismantling the hyper-masculine trope of awakening as a solo, heroic process
How you can use mindfulness and meditation to unhook from the habit of self-attack
The beauty of the "Indigenous Presence" meditation, which overlays the fundamental wellbeing qualities of Indigenous ceremony onto mindfulness and loving-kindness meditation
"Heart fluency," which brings your mindful attention to the fundamental and unlimited nourishing qualities already within you
The spontaneous awakening of joy within you
How to unlearn the habit of self-criticism and develop a greater capacity for kindness to your loved ones and others
Concrete tools you can put into practice right away to lessen stress and anxiety, and help you tap into freedom and ease
How benevolence, compassion, joy, and equanimity are the path to — and the expressions of — wisdom
And so much more!
The remarkable speakers from a wide variety of wisdom traditions will provide timely (and timeless) insights, inspiring stories, and practical teachings that hold keys to transforming relationships, social structures, and humanity's engagement with the planet.
You'll hear inspiring personal stories from each speaker about how the power of mindfulness changed their lives. And, they'll share unique examples of how mindfulness is being used to heal personal, cultural, and racial trauma.
RSVP here for the Mindfulness & Meditation Summit — at no charge
P.S. Here's some more of what our brilliant speakers will be sharing with you…
Join Pamela Weiss as she stresses the importance of the feminine qualities of embodiment, intuition, nourishment, and connection as you walk the spiritual path.
Quiet your thoughts and shift into peaceful awareness with Amma Thanasanti as she provides insights on stress and change — and guides you in a short meditation.
Experience mindfulness, heartfulness, and Buddhist wisdom with Pascal Auclair — and submerge into these deeper forms of awareness to become balanced and feel freer.
Immerse yourself in nature-based mindfulness meditation practices with Mark Coleman, who will offer skilled guidance in how to open hearts and minds to the gifts and teachings of nature.
Ruth King will explain how rage sits at the crossroads of personal transformation… and, when embraced with awareness and compassion, can become an intimate and empathic teacher of stability and integrity.
Join the "resilience revolution" with Dr. Larry Ward — who'll help you shift your focus to deeply embodied resilience and the cultivation of an enhanced nervous system.
Experience a deeper dimension of meditation and self-compassion during difficult moments while walking the dharma path, with James Baraz
La Sarmiento will help you dissolve the deep conditioning of constantly needing to prove yourself, sharing empowering practices of mindfulness and self-compassion to transform feelings of insecurity and doubt into trust and self-acceptance.
Suzanne Bryant will convey teachings to equip you on your path to becoming a catalyst for others to embrace their authentic self.
And much more!
RSVP here for the Mindfulness & Meditation Summit — at no charge