You are an electrical being. Your entire nervous system — an electromagnetic web interweaving every major organ — is interlaced with every other system of your marvelous body.
Did you know that you can cultivate and groom this diffuse, exquisite web of energy using therapeutic practices… starting right now?
Energy medicine is based on the understanding that any physical, mental, or behavioral problem has a counterpart in the body's energies, and can be re-balanced at that level. It provides a holistic approach to healing — by addressing not only your body, mind, and spirit… but by working also with your emotions, past trauma, and even your relationships.
You have a keen ability to tap into this potent inner resource at any time — to re-balance ailments and illnesses, increase vitality, balance emotions, and prevent disease.
For thousands of years, practitioners around the world have activated the body's natural healing processes — through balancing Qi, healing touch, sound healing, breathwork, Ayurvedic medicine, shamanic practices, hands-on healing (such as Reiki and Chinese reflexology), and many other techniques.
In fact, Western medicine and energy medicine can pair beautifully to support and revitalize your WHOLE being. From reducing anxiety and stress through chakra balancing to enhancing cancer therapies with the wisdom of Qigong, patients everywhere are taking an active role in their own healing processes.
And new science-based research is now showing that different forms of energy medicine promote healing. During The Energy Medicine & Healing Summit, you'll discover exactly how to take your health into your own hands (literally!) with some of today's top energy medicine experts, health practitioners, and healers… who will guide you to transform your overall wellbeing from the inside out.
Free Online Event
Energy Medicine & Healing Summit
November 16-20, 2020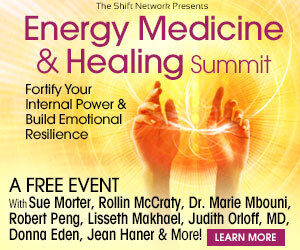 We're thrilled to invite you to join 35 of today's highly sought-after teachers, doctors and healers — including Dr. Sue Morter, Rollin McCraty, Dr. Marie Mbouni, Robert Peng, Lisseth Makhael, Dr. Judith Orloff, Donna Eden, Jean Haner, and others — bringing to light the curative and evolutionary powers of a wide range of proven energy practices!
Here's just a small sampling of what we'll be sharing with you….
Dr. Sue Morter will masterfully demonstrate the two energy systems that run the body — and teach you to move them into alignment with simple techniques.
Rollin McCraty will share new strides in breathwork research revealing that we are far more interconnected with each other and the earth's field than previously imagined… and that how we "feed the field" in each moment has real impact.
Dr. Marie Mbouni will share a new energetic and breathing technique that can help you shift your mental and emotional state in minutes to break out of negative thoughts and into deep flow, creativity, and confidence.
Dr. Judith Orloff will explain how intuitive medicine woven with spirituality can help you transform negative emotions — such as depression, anger, worry, and fear — into compassion, courage, and hope.
Discover from legendary energy healer Donna Eden how the vagus nerve is involved in many health conditions… including a compromised immune system, inflammation, anxiety, and even overeating.
Jean Haner will offer tips and practices from the spiritual side of Chinese medicine to maintain your unique energy in a healthy flow in all aspects of your life!
Lynne McTaggart will share insights into her groundbreaking research in global consciousness, and how to create transformational groups to effect change in themselves, each other, and the world.
Qigong Master Mingtong Gu will offer a path to address the energetic cause of all suffering, while reconnecting with the infinite source of all energy… including the energetic principles that underpin your entire existence.
Plus, you're in good hands with your summit hosts: Dondi Dahlin — author of The Five Elements and co-author of The Little Book of Energy Medicine with her mother, Donna Eden — and Kris Ferraro, energy coach, speaker, author, and creator of Spiritual Freedom techniques.
P.S. During this special event, you'll discover:
The effect that energy medicine practices can have on gene expression and your health
Fast and effective Qigong practices to process stress & regulate emotions
Sound healing tools to create healthy energy flow and daily detoxification in the brain
Advanced methods for training your hands to sense the subtle energy field
How to "raise your voltage" to open up a whole new world of possibility for improving health, solving problems, and accessing your full potential
An introduction to Logosynthesis®, a new simple and effective healing practice for resolving "frozen" energy in your system
How to bolster your health baseline and release energy blockages related to stress, sickness, and trauma
Three specific types of light you can access to create health, prosperity, and love
Ways you can use energy to deepen relationships
Remarkable research on the nature of healing intention, and how it can be captured, stored, and reproduced
How your life lessons are reflected through vibrational energy, which shows up through color
Methods supporting the health of organs that are particularly vulnerable to stress
How to set much-needed boundaries as you delve into the realm of energy exchange with others
And much more!