Posted in Balanced Body, Balanced Lifestyle | December 19, 2012 | 3 Comments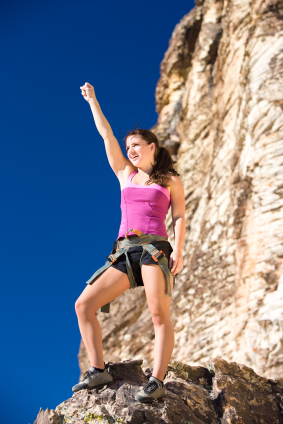 How successful are you at achieving your resolutions?
The end of the year naturally makes us think about what has happened in the passing year and what we would like to change in the coming one. Actually about 62% of Americans make New Year resolutions while 38% claim that they absolutely never make NY resolutions.
With 98% confidence I can say that as a reader of a blog about balanced living you will be making resolutions this year or at least think about them.
Why? Because YOU CARE about your life and you want to improve it.
Did you know that only 8% of people are successful at achieving their resolutions?
In terms of the BalanceInMe community, 5474 readers won't be able to improve their lives in the upcoming year. That's a very saddening thought, isn't it?

I feel it's time for the Resolution Revolution! It's time to finally make those lifestyle changes happen no matter what they are. Are you ready?
Just the other day I came across a list of the most popular resolutions (according to the University of Scranton, Journal of Clinical Psychology.)
Lose weight (no surprise here :-))
Getting organized.
Spend less, save more.
Enjoy life to the fullest.
Staying fit and healthy.
Learn something exciting.
Quit smoking.
Help others in their dreams.
Fall in love.
Spend more time with family.
From this whole list "falling in love" is the only one that we have no control over.
Did you notice something amazing about this list? All of the goals on it are parts of a balanced lifestyle!
If we had to summarize all New Year resolutions into just one it would be "Live a more balanced life!" Isn't it what we are here for?
The Resolution Revolution
This year I encourage you to make a once-and-for-all change towards a more satisfying, happier, fuller and more balanced lifestyle. Are you with me?
Sometimes we need just a little extra help to push us and keep us motivated to reach our goals. Let's make this push together.
The best way to keep your resolutions is to use a proven and easy-to-follow resource that will guide you through all the changes and inevitable obstacles. Reclaim Your Life in 15 days is just that type of a resource. It will help you to:
beat procrastination;
stay motivated to finish a project or bring your marvelous idea to life;
break your bad habits once and for all;
become more positive without the "think-happy-thoughts" nonsense;
exercise your "no" muscle and take control of your time;
learn polite and yet effective ways to deal with difficult people and negative situations;
find time for things you REALLY want and are meant to do (and if you don't know what those things are – how to discover them);
stop overextending yourself and start living in balance.

Does it sound like something you need in your life?
Even though the course has been very successful and helped dozens of people transform their lives there was one part that was still missing from it – a chapter on how to live a healthier and more active lifestyle.
Weight loss and health top the resolution list every year, however it's so difficult to find time and a program that will fit your lifestyle.
I understand the necessity and challenge of an active lifestyle more than anybody else. My husband and I had sedentary lifestyles because we work mainly behind the computers.
At the same time, I am a Pilates and fitness instructor (with over 10 years of experience) and staying active is a passion and a priority of mine. I work with a lot of clients of different ages (the majority of them being between 30 and 65 while my oldest "student" is 75.) When I ask them what they would have done differently 10-30 years ago they all say the same thing "Started being active as early as possible!"
An active lifestyle has a lot of benefits; however certain numbers speak louder than any words:
Did you know that men and women who sit more than 6 hours a day and are physically inactive are 94% and 48% (respectively) more likely to die earlier than their peers who are physically active and spend less than 3 hours a day sitting?
About 80% of people will see a doctor at some point of their life because of a back pain. The main cause of back pain is sedentary lifestyle.
Exercise and an active lifestyle are as effective in treating depression as drug therapies (the success rate is about 60% for exercise and 65% for drug therapy.)
Are you convinced that it's time to change your lifestyle?
For the first time ever, you can take advantage of a special Life Balance Bundle: The Reclaim Your Life course that will give you practical tools to balance all areas of your life and The Active Lifestyle Course that will help you make exercise and physical activity an integral part of your lifestyle.
The Active Lifestyle Course includes:
18 downloadable workouts that you can do anywhere;
Over 270 minutes of video workouts;
7 printable worksheets that will help you succeed with the lifestyle change;
The Active Lifestyle Guide that covers the following topics:
how to find time for exercise;
how to keep your energy during the day;
the best workouts to lose weight;
daily no-exercise activities to stay physically active;
a personal active lifestyle plan to ensure your success.
If you want to make this year different and finally succeed at your New Year resolutions then I invite you to join the Lifestyle Revolution.
Smart Thoughts (3)