Posted in Balanced Lifestyle, Work/Life Balance | April 18, 2012 | 4 Comments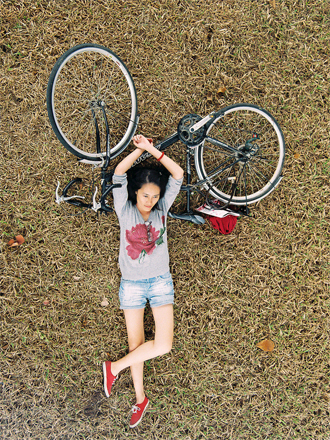 Last weekend I sat on my home couch for more than 20 minutes in a painful predicament. I had articles to finish and wanted to do more writing, but my friend had just texted me and asked me to go bike riding since the weather was exceptionally beautiful.
My psychologist had urged me to maintain more social contact, which is positive to my recovery from depression. Also, I liked that friend and wanted to spend more time with her.
On the other hand however, I was hoping to finish some writing for my blog, which was also therapy for me in a way. I had done some 2 hours of writing that day already but felt that I had fallen short of my goal to produce an article.
So I was tempted to carry on writing and forgo the chance to do some fun exercise with a friend for I thought I had not written enough…
But, when is enough, enough?
I sat for 20 minutes in this dilemma, trying to decide what to do, until I remembered something my psychologist had taught me during our cognitive behaviour therapy sessions. Indeed, I had previously written about "The Balance Model" on my blog and a psychology website.
The Balance Model is divided into 4 quadrants:
on the X axis (horizontal), visualize "Self" and "Social" as opposing forces
on the Y axis (vertical), visualize "Achievements" and "Fantasy" as opposing forces
The quadrants are as follows:
Self
represents anything that relates to the individual and the individual alone, for example, health, diet, exercise, me-time, interests, sleep, hobbies…
Social
represents anything to do with other people, such as dinner with friends, social clubs, events, seminars, romantic relationships…
Achievements
represents anything that involves an increase in knowledge or the individual considers a goal or achievement, for instance, career promotions, language skills to help equip the individual for a job, examinations and professional qualifications…
Fantasy
represents anything that has to do with dreams, daydreams, wishes, something that does not necessarily have to be attainable…
Part of my self-destruction was brought about by focusing too much in the Achievements quadrant in the last 20 odd years – indeed burnt out should not have been surprising given the time I spent accomplishing goals after goals I set for myself.
Consequently, I had neglected my "Self" and my health deteriorated into severe migraines, back pains and eventually major depression. I also had no time to spend with friends or cultivate relationships.
During my recovery, I rediscovered my passion for writing, and started blogging about my reflections on living with depression and self-awareness. However, this passion became yet another "Achievement" for me, and it wasn't fun anymore.
Day after day I spent time mulling over SEOs, keywords, regularly posting articles, drafting articles, establishing a platform for eventually, and hopefully a book. Even in my misery, I was trying to accomplish something for the world to see instead of focusing on my own health.
I sat on my couch, and looked out the window, contemplating an otherwise easy to respond invitation.
Visualizing the Balance Model in my head, I placed "Writing" in the Achievements quadrant, whereas "bike riding" belonged to the Social quadrant. I was very skewed towards the Achievements quadrant and it was up to me to change that habit. Therefore, even though I could not quantify it, I decided today's writing was enough.
It was enough for me, in my life, in my circumstance, at that particular moment in time.
The Social quadrant was what I needed to work on, and thus I went bike riding with my friend and had a wonderful time out in the open. What felt like idling away my time because I wasn't "achieving" something turned out to be pleasurable and gave me new inspiration for my writing.
It might be a different scenario for you, but next time you are considering between choices, trying using the Balance Model to help you decide.
Balance does not mean equal quantity. It means the right amount at the right time.
What quadrant do you have to focus on today?
Smart Thoughts (4)