Posted in Balanced Body, Balanced Nutrition | January 20, 2012 | 34 Comments
Would you like to eat healthier?
Every year, every month or every time that we overeat and feel bad after it we make a resolution to eat healthier. But how often do we keep that promise?
Sometimes we stick to a healthy plan until the next big family event. Or maybe until a party with delicious and diabolically tempting food. Or maybe until the next stressful day (and we have plenty of those.)
An easy and obviously important goal like healthy eating sometimes seems unrealistic to achieve.
At the beginning of the year I ran an annual BalanceInMe survey to see how balanced all of us are and the results are in.
The majority of the BalanceInMe community has trouble staying healthy and the results haven't changed much from last year (if anything, in 2011 the number of those who couldn't keep their health in balance increased by 3%.)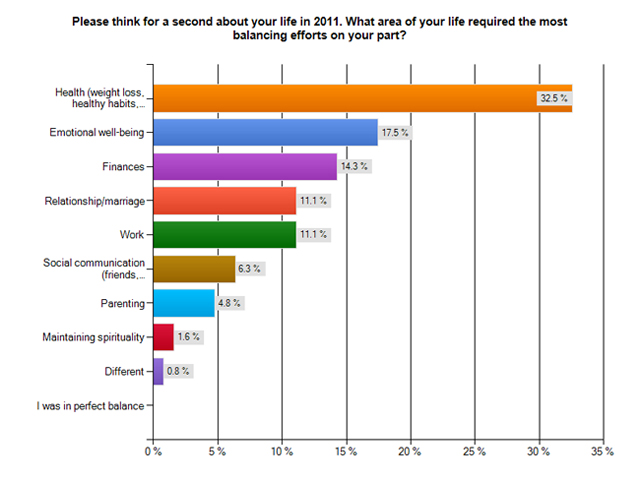 Isn't it time to change this vicious cycle?
I invite you to join a Healthy Eating Challenge (it's absolutely free.)
When it comes to improving health it's best to start one step at a time and nutrition is the foremost and most vital step. Our bodies need balanced and high quality fuel to produce the energy that will help us deal with everyday tasks and stress, find power for exercise and keep all our vital systems humming in harmony.
Why is it so hard to eat healthy?
Eating healthy should be the most natural and easiest thing to do but in reality it's quite the opposite. If you've tried to eat healthy before but didn't succeed then you are not alone.
Healthy eating is hard today.
Our society and our lifestyles make healthy eating difficult. Let's look at just a few factors.
Scientific confusion. If you've tried a healthy nutrition plan before then you probably got confused with all the information (often contradicting each other) that is available today.One day we hear that eggs are our worst enemies, the next day they are our best friends.One day we hear that vegetarianism is the healthiest way of living, next day we read studies that meat is vital for heart health.

Some experts say that wheat products are okay to eat while others are screaming that it's the cause of all evil.

How can you not be confused with all this?

What facts confuse you? Ask your questions in the comments so that we can find the truth.

Healthy eating is expensive. We all understand that if we could buy all things organic and use only high-buck nutrition power-houses then our health would be in perfect balance. I don't know about you, but there are not many things that I can afford to buy organic before going bankrupt. And is organic eating really that good or is it just hype to make consumers, you and me, pay ten times more for a product that is worth only a few cents?Did you ever read a healthy recipe that is more expensive to fix from scratch than buy a meal for two at a restaurant? I did, and honestly, it's very discouraging for a person who is just trying to eat healthy on a budget.Is it possible to eat healthy without ruining your family budgeting? Yes, it is and we will focus on it during our Healthy Eating Challenge.
Healthy eating (and mainly cooking) takes too much time. I have a question. What's faster, going through a drive-through on the way home from work or fixing a healthy dinner from scratch?I would imagine that the drive-through would seem like the right answer to you but it doesn't have to.So many healthy meals take only 10-20 minutes to cook and use cheap ingredients that are already in your pantry. The rule in my house is not to fix a meal during the work week that takes more than 20 minutes. I am sure that each one of us can find this time (even after the most stressful or busy day) to take care of our health and the health of our loved ones.
Healthy eating is not tasty. The tastiest things in the world are not healthy, it's true. I wish a bowl of ice-cream were as healthy as steamed broccoli. Or a slice of pizza as nourishing as brown rice with steamed fish.We are hard wired into craving fatty, salty and sugary foods and there is no telling why God created us this way.BUT it is possible to acquire taste for healthy food and you can enjoy delicious meals without sacrificing the taste that you love.

It's a proven fact that we get addicted to unhealthy food (soda, fatty or salty foods, sugary deserts etc.) and the modern food industry does everything they can to put us on the hook. But just a month without this junk in your body will give your taste buds a complete makeover.
What challenges do you face when it comes to healthy eating?
Whether you are trying to eat healthier or you have accomplished this goal already and want to share your knowledge and experience with others, I invite you to join the 1 Month of Healthy Eating Challenge.
No matter how busy or laid back our lifestyles are we can all take a little bit of time for ourselves and do something nice for our bodies – nourish them with love, care and budget-friendly healthy meals.
What can I expect from the Challenge?
In order to make this month a success we all need to set specific goals that we will be working towards. This week please think of the goals that you would like to reach (lose weight, lower cholesterol, cut back on grocery bills etc.) and share your goals in the comments.
Every week I will post one article that will focus on a healthy eating concept.
Every few days I will post healthy recipes that I fix during the week and I would love for you to share yours (a lot of recipe sharing will be going on on Facebook.)
Every week I will answer your questions about healthy eating (please start asking them in the comments and start each question with QUESTION: so that I can easily spot them.)
We will commit to supporting each other and keeping each other accountable in the comments, on Facebook or in any other way.
When does the challenge start?
I know that we all need a little bit of time to get mentally prepared for a challenge (or finish a bucket of ice-cream in the freezer that might be too much of a temptation during the challenge, LOL.)
We will start the challenge in 1 week, on January 27th. Please mark this day on your calendar.
How do I join the 1 Month of Healthy Eating Challenge?
Joining us is easy.
Please leave a comment on this post introducing yourself and explaining

what challenges you are facing with healthy eating,
what goals you are trying to reach with a healthy meal plan,
what questions (if any) you have about healthy eating (please start a question with QUESTION so that I can easily spot them.)

If you are an expert on healthy living already please introduce yourself and tell us a few things about how you managed to stick to a healthy meal plan. We would love to have you here.
Please enter your name, email and preferences in the form below so that I can send you important information and motivation during the challenge.


Please LIKE BalanceInMe on Facebook because some of our conversations will be going on over there. I would love for all of us to share pictures and recipes of our favorite healthy meals on FB but we'll get there later.
Do you know anyone who will enjoy and benefit from the challenge? Please share this post with your friends. The more people who will join us the more fun this challenge will be.
Please remember that this challenge is absolutely FREE. All you need is the desire to transform your eating habits, learn new healthy-tasty recipes and have fun along the way.
Healthy Eating Challenge Articles:
Keep it balanced!
P.S. Healthy eating is only one part of a balanced lifestyle. I encourage you to take control of your life and start making small steps to a more balanced living every day.

If you don't know just how to simplify your life then I would like to help you. Take a look at the Reclaim Your Life ecourse, and don't forget to check out the Lifestyle Revolution package – a special program that I created to help you live a more active and balanced life without sacrificing your lifestyle.
Photo credit: andi.vs.zf
Smart Thoughts (34)