Posted in Balanced Mind and Soul | July 24, 2012 | 13 Comments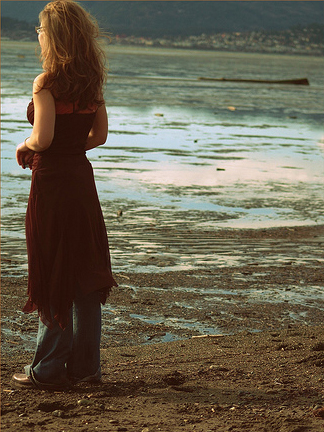 What is self compassion?
Researcher Chris Germer said, "Whereas acceptance usually refers to what's happening to us —accepting a feeling or a thought—self-compassion is acceptance of the person to whom it's happening. It's acceptance of ourselves while we're in pain."
The topic of self-compassion is rapidly becoming a burgeoning field in psychological research, led by Germer and University of Texas, Austin researcher Kristin Neff, author of Self-Compassion.
While it is fairly easy for most of us to feel compassion toward others, it can be difficult to apply the same to ourselves. Which is too bad, because being self-compassionate can improve health in the following ways:
Decreased depression and anxiety: one of the mechanisms here seems to be that self-compassion reduces self-criticism, a key component of depression.
Greater wisdom and emotional intelligence: people who are self-compassionate are better able to handle difficult emotions. Rather than ruminating or suppressing negative thoughts, self-compassionate people gently allow their own experience rather than avoid it.
Increased meaning in life: self-compassionate people report greater life satisfaction and social connectedness as well as higher levels of autonomy, competence, and relatedness.
Enhanced motivation: people who are self-compassionate tend to have less motivational anxiety and also want to achieve for themselves, not to please others or achieve social status.
Improved physical health: Neff and colleagues have found that people high in self-compassion are better at maintaining diets, do better in reducing smoking, and find intrinsic reasons for exercising rather than extrinsic ones such as body image.
Developing self-compassion.
So, given these benefits, how does one increase self-compassion?
Neff has found that self-compassion can be broken into three key components: self-kindness, common humanity, and mindfulness.
Self-kindness
Rather than being self-critical or beating yourself up for making mistakes or feeling inadequate, self-compassion allows you to be warm and accepting.
One essential question that Neff suggests you ask yourself is, "Would I treat my best friend that way?"
Care for yourself as you would your own best friend when s/he goes through suffering and difficult times.
It's not that you're not claiming responsibility for yourself, it's more that you are acknowledging exactly who you are but doing so with benevolence so that you can then be more open to helping yourself.
Common Humanity
Somehow, we tend to get very narrowly focused when we become self-critical. When you feel down about yourself, you might tend to think you're the only one with your particular flaws and foibles. This isolates you from the rest of the community and adds to your self-criticism.
Remember that all people are flawed, all have inadequacies, and so we all are in the same experience together. Self-compassion recognizes the shared experience of humanity and helps us to feel less isolated and alone.
Mindfulness
Neff says, "To give ourselves compassion, we first have to recognize that we are suffering. We can't heal what we can't feel."
Mindfulness is the act of being in the present moment without judgment. Noticing that you are suffering or hurting in some way is the first, vital step. Then you must accept your hurting self without judgment, even if you are the one who cause your own pain.
The concept of self-compassion is a growing field and one that has already proved influential to improved overall health. It is certainly worth exploring yourself. For more information, extensive research, and guided self-compassion meditations, please visit Kristin Neff's website at http://www.self-compassion.org.

References
Smart Thoughts (13)