Posted in Balanced Lifestyle, Balanced Mind and Soul | March 21, 2013 | 2 Comments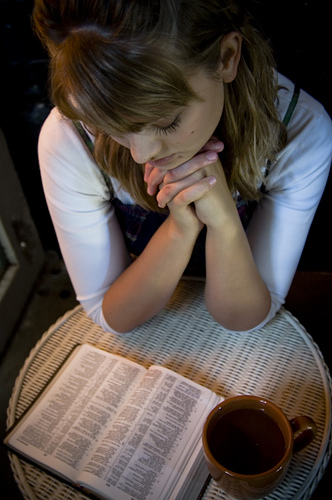 The world is a fast-paced, noisy place; so much so that we often don't realize how over-stimulated we are until we get home, turn off all the noise and just sit for a minute. Doing this, however, is often harder than we think. There's dinner to make and family members or even a pet demanding our attention, leaving us no time, it seems, to take a minute for ourselves.
This just isn't healthy.
Everyone needs to wind down, even if it's just for a few minutes, and if you don't remind yourself to do it you'll just get swept up in the chaos until something snaps; usually your sanity. How can you remember to do this? By creating an environment in your house that is dedicated solely to rest, relaxation and recuperation.
There's always room for peace
In my home we have a closet in the spare bedroom that's about six feet by eight. It's close quarters, but from the day we moved in I knew it would be my place for escape. I didn't do much — I painted the walls a soothing blue-gray, added a comfortable chair and side table, and bought a docking station for my iPhone so I could listen to my favorite music.
Even if you have a small, 400-square-foot apartment, it's possible to create your own rejuvenation station. All you need is:
A place to recline
Soft lighting
Easy access to soothing music or a relaxing activity such as reading
A visible divider
The spot can be tucked in the corner next to your bed or it could be a part of your living room, but the most important part of the above list is having a visible divider; something that indicates to you both mentally and physically that you are entering a place of peace. Again, this doesn't have to be something as permanent or space-absorbing as a door. It can be as simple as a side table, a curtain or a folding room divider.
Designate your space
If you can't keep your quiet space in place at all times, you can create a removable wall that can go up or down when you need it. A curtain divider, for example, could be put into place with just the following items:
Ceiling hooks
Shower or standard curtain rod
Curtain
Simply attach the ceiling hooks to the ceiling and hang the curtain on the curtain rod, taking it on or off as needed.
A room divider is also a fun, easy project and takes up very little space when folded up. To build a quick divider, all you need is:
2 hinged shutters, approximately five feet tall (two panels hinged together for a total of four panels)
Two patio window hinges
Screws and screwdriver
Paint and/or sandpaper (optional)
To build, lay the shutters next to each other lengthwise and screw them together with the two patio window hinges. Once attached, stand the panels up and decorate as desired. If you want to sand old paint off the shutters for the natural look, however, unscrew all of the panels and sand off the paint first before building.
Room dividers can be as simple or complicated as you like. You can build your own panels with five by two foot frames, using an industrial stapler to stretch the fabric of your choice within the frame, or you could even reuse thin strips of wood such as wall lath and either stack them in the panel, or weave them back and forth around a central dowel rod. No matter how you approach it, building a room divider could be almost as fun and relaxing as the space they're being created for.
Find your peace
Last but not least, take some time to discover what activity, or non-activity, will help you relax the most in your new space. Try listening to music that relaxes you, reading, gentle yoga, or just kicking your feet up and staring at the ceiling. Whatever it is that helps you wind down from a busy day, use this room to indulge yourself with a few stolen moments of peace.
Once you start making it a regular practice you'll find that you feel much more relaxed, invigorated, and at peace with yourself during the day. You might even find that you're more excited about work than you've been in a while. It's amazing what a little rest – and a little time on your own – can do for your overall spirit. You can find more tips on finding your inner peace here.
What are some ways you've found to relax during the day? Do you have a place to wind down in your house? What aspects of your quiet space do you like the most?
Smart Thoughts (2)