Posted in Balanced Lifestyle | January 8, 2014 | 1 Comment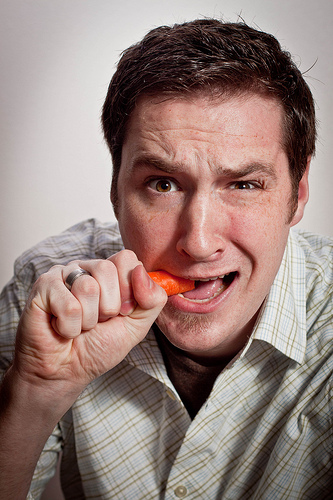 New Year's resolutions have become something of a sad joke with the proverbial "lose weight" and "become a better person" faithfully promised each year and usually abandoned around January 27th. This may be, reports CNN, because New Year's goals tackle the surface when there are often underlying motives for the repetitive resolutions we make each January.
"When people resolve to 'lose weight,'" explains Dr. Amy Crawford-Faucher of the University of Pittsburgh Medical Center, "they are actually saying, 'I want to feel and look better.'" This opens up a new way to look at resolutions. Rather than making weight loss a main goal, focus on the real hopes behind the resolutions.
A Better Goal than Weight Loss
Instead of focusing on losing 20 pounds in 2014, make a big picture goal of being more healthy and happy in the New Year. Chances are that weight loss will be just one side affect of focusing on your personal wellness. This is a much more positive goal that incorporates a number of important activities like:
Eating more vegetables
Going for weekend walks
Choosing fresh meals
Finding more opportunities to enjoy life and experience happiness
Focusing on one of the 101 healthy habits every week of the year
Wider positive goals will prove more motivating in the long run and help you to stick with them more consistently and for a longer period. This is because if you step on the scale and have gained a pound, you are not necessarily failing at your resolution. Thus, it is less tempting to just quit.
Add More than You Detract
Another tactic for creating a resolution you can stick to, is to add something rather than eliminating. For instance, resolving to include more leafy green vegetables in your diet will prove much more effective than simply resolving to cut out junk food. While both are beneficial goals, choosing to add veggies will replace some junk food in your diet while just denying fast food will prove a more painful goal with a greater chance of failure.
There are many proactive resolutions that can change your year. Decide to meet with a quality doctor and find direct primary care to help you set healthy goals. Resolve to enjoy more fresh air, whether it is rolling down the car windows, eating lunches at a nearby park or taking weekend hiking trips. Try to read and sleep more to avoid tiring your eyes in front of electronic screens. Spend some time getting creative with your goals.
Resolve to Use Your Christmas Gifts
In an attempt to pump up energy to attack their resolution lists, many people invest in new gym memberships, workout equipment, juicing machines and other gear. Unfortunately, a lot of it often winds up on Craigslist.
A great way to motivate without spending unnecessarily is to take a look at all the loot you were given at Christmas and decide how you can put it to use. If you got a new water bottle and a North Face Summit Series jacket, then go for a hike to show your Aunt Loretta how much you appreciated her gifts. This is just another way that you can inspire yourself to have a healthier and happier New Year.
Create a plan for success and for setbacks
Making New year resolutions is not hard, sticking to them is a totally different story. However, if you approach your resolutions with calm mind and sparkling enthusiasm then you will be able to make those goals happen. Use these 10 rules to make resolutions that work to plan a successful 2014.
Smart Thoughts (1)