Posted in Book Reviews/Interviews | December 7, 2012 | 41 Comments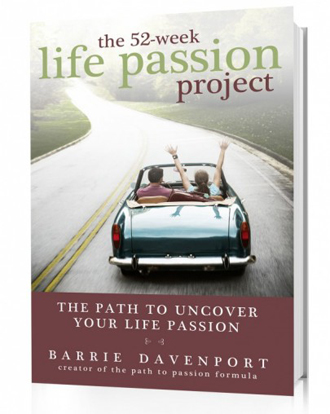 Can you live a happy life without life passion?
You can, no doubt about that. However, a happy life without passion will always lack that very special "spark" that turns an ordinary day into an awesome experience of discovery, flow and inspiration.
It takes some time though to find your passion and then bring it safely into your life.
Our lives are already full of tasks, responsibilities as well as unexpected errands and adding anything else to it (even something as exciting as life passion) can totally throw you off balance. There are plenty of books and resources today that promise to give you passionate living. However, a lot of those resources don't take into account that you already have a life and you need to gradually add passion into your everyday routine.
Barrie Davenport, a life passion coach, author, and blogger at Barrie Davenport.com, a site devoted to helping people uncover and live their life passions, has just released her new book The 52-Week Life Passion Project. I had a wonderful opportunity to read and thoroughly enjoy this book.
One of the things that really struck me about Barrie's book was the easy-to-follow format and her attention to the detail. Instead of just throwing life passion at you (the somewhat annoying advice of "do what you are passionate about, forget about everything else and and you will be successful") she takes you step by step (and week by week) on your journey to discovering your passion and then finding time in your life for it. Several chapters of her book focus specifically on life balance, something I couldn't be impartial towards!
Today you can win a free copy of Barrie's book. Read her wonderful interview and complete two super easy steps to get an early Christmas (or New Year's) present for yourself.
1. Barrie, why is life passion so important?
I don't think people realize how important it truly is until they find it and live it. If you've been eating tofu for years, you don't realize what's been lacking until someone gives you a slice of chocolate cake. You just know that you are thrilled with tofu.
If you are living a mediocre or uninspired life, you might be getting by, you might have times of happiness, things might be OK, but you still feel an emptiness or restlessness for something more. Having a life passion changes everything about your life. I would equate it to the experience of being in love.
Your entire life is brighter and more exciting. You wake up joyful and eager to spend time with your beloved. Time disappears and you feel fully engaged in life when you are together. Even the difficulties of life seem less difficult. It is a very similar experience with life passion.
You have found something that makes you come alive, that fulfills and engages you. It impacts all parts of your life, even the parts not directly involved with your passion. You become a more interesting person and therefore attract other people to you. And your current relationships are better because you are lighter and happier.
Living your passion increases your self-esteem and self-confidence. You have more energy because you aren't expending energy worrying about how you don't like your life. You are too busy and connected with your passion to spend much time worrying or complaining. In general, you become the best version of yourself.
2. Your new book, The 52-Week Life Passion Project, promises to guide a reader on a journey to finding his/her life passion. Are there any vital steps that will ensure the success of this journey?
All of the steps I outline in the book are vital steps. But there are a couple of things I would say are hugely important at the outset of the journey.
The first is that you must give yourself the space and time to do this passion work. Passion doesn't just land in our laps. We have to uncover it, bring it to the surface, and then figure out what to do with it. This takes time, but it is the most important time you will ever spend on yourself. It is time devoted to making your life so much better. So I encourage readers to give themselves at least an hour a week they devote to working on the activities and assignments in the book. Much of the growth and inner work will take place during the weeks between lessons as thoughts and ideas simmer and gel. Set aside a special hour and a quiet place in your house to devote to this project weekly.
In addition, I advise people to see this work itself as your life passion for the next 52 weeks. It is a process, a journey, but it is one that can be enlightening, exciting, and fun.
Life passion rarely arrives like a big special delivery package all at once. It takes self-discovery, research, experimentation, and planning. Then one day, after you've done this work, you realize you are "in love" with what you are doing. You are living your passion.
3. In Week 29 you are talking about claiming your balance. Can you share with us a few ideas on how to make life passion and life necessities (or even hurdles) coexist?
It's all about prioritizing and making choices in life. First, I'll say that if your life is complicated, overscheduled, full of drama, and cluttered with physical stuff, you will have a hard time finding and living your passion. There simply isn't emotional, mental, or physical space in your life to make it happen. A big part of the work of preparing for passion is streamlining your current life to make room for what you deeply desire. It's hard to even consider adding a passion pursuit to your life when it's so crowded and full. You must make room.
I suggest that people begin with the low hanging fruit of simplifying their lives to open up some space. Start getting rid of physical clutter. Then look at your schedule and see what you let go of fairly easily – and let it go. Then it gets a bit harder. Sometimes you must choose between two or more important or worthy options or choices. But a great question to ask yourself as you attempt to claim balance and streamline your life is, "Does having my life passion trump this?" Does having your passion trump making a lot of money in a job you hate? Does it trump making your parents angry with your decisions and the repercussions of that? Does it trump the opinion of other people in your life?
For me, living my life passion trumps many things – except the essentials in life and some other important aspects of my life like time with my children.
4. Can you share with us one practical exercise that will help us align our lives with our passions?
Define your core personal and professional values. These are the guiding principles of your life around which all decisions and actions toward your passion should be based. When you know your top 5-7 core values, the values that are non-negotiable for you, then you make the process of finding you passion much easier. As you examine various interests and ideas that might be your passion, measure them against your values. They should support and reflect at least one of your core values – the more the better. My core values are love, communication, service, creativity, and connection. These fit perfectly with my passion for coaching, writing, and personal development.
5. How can a person's life change after completing the 52-week life passion project? Do you have any real-life success stories to share with us?
A person's life will change in so many ways through the process of completing this book. A good portion of the book is spent on helping readers "clear up" aspects of their lives that might be getting in the way of finding and living a passion. These roadblocks could be limiting beliefs, fears, relationships, boundary issues, life balance issues, tolerations, and emotional barriers. Just this aspect of the work will have so many benefits for all aspects of one's life. The rest of the book focuses on helping the reader learn more about their personality, intelligence type, creative abilities, skills, and natural aptitudes. Using this information, along with core values and a life vision, the reader will begin to do some research and experimentation around potential interests. By the end of the book, if the reader has followed the lessons and taken the weekly actions, they should either know their life passion or have a very good idea about it what it might be. And they will know what actions need to be taken to continue moving forward. Once someone gets very clear on what they want in life and address the issues that are holding them back, they are irrevocably changed. There is no going back to the old way of living. Your readers can take a look at some wonderful success stores in this article on my site: Real People, Real Passions: How 8 Regular People Make Passion Part of Their Lives
Smart Thoughts (41)