Posted in Balanced Body, Book Reviews/Interviews | March 28, 2013 | 6 Comments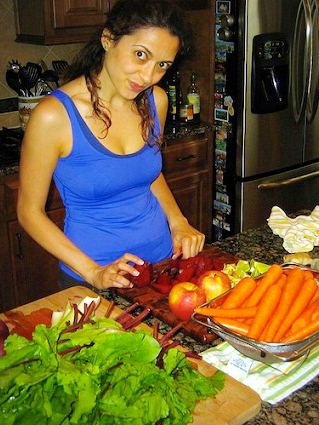 I confess: Juicing has never been on my list of things to do in life.
It takes too much time.
There is too much cleanup involved.
These two factors are enough to turn me away from anything.
However, about a year ago a blogging friend of mine Farnoosh Brock asked me to read her new book about Green Juicing. I was a little skeptical but it never hurts to learn something new, I thought. I've been doing green juicing on and off after that (more as a hobby than a serious nutritional approach.)
Today I want to present to you Farnoosh's new printed book (congratulations, my friend!) The Healthy Juicer's Bible: Lose Weight, Detoxify, Fight Disease, and Live Long
If you've been following BalanceInMe for a while then you know that I am in the last stages of my second twin pregnancy. To give my little ones the best start in life I needed to make sure that they were getting enough vitamins and nutrients. I can't take any prenatal vitamins (it's a long story) so juicing seemed like the best choice.
Of course I like eating fresh veggies and fruits but there are only so many apples and carrots I can munch on during the day while still getting an adequate amount of calories to support the babies' growth. This time around juicing was a no-brainer for me. Thankfully, I had Farnoosh to answer all of my questions and steer my on the right road to healthy juicing.
I'll let her answer the most common questions about juicing that you might have and I hope that you will decide to give this healthy habit a try.
1. Farnoosh, how long have you been juicing and what inspired you to start this healthy habit?
You know, I started juicing in 2007 after watching a Jack Lalanne commercial. I got totally inspired by returning to basics – fruits, vegetables and herbs, which I knew so well – and by consuming more of them in a form that gave my body total nutrition and potency. It was total serendipity that I watched that commercial. I was so ready for a transformation in my life, and for a change that would be beyond what I was doing, such as exercise and eating well. I needed to go deeper. I needed a purification or deep cleansing and juicing gave me that and so much more.
2. Do you recommend "juicing" all your meals or is it just a complementary practice to a healthy nutrition plan?
Good heavens, no! I eat solid foods, and hot meals and salads and so much else, but I juice just about every day! When you first start, juice either to add extra nutrients and calories into your system if you are not eating enough nutrients or use it to replace one of your snacks or maybe even one of your meals. The best time to juice is either for breakfast or after a long workout to rehydrate and rejuvenate. The more you do it, the more you will crave it and you may be surprised what changes in your diet and nutrition you might make as a result.
3. A lot of people associate juicing with a weight loss strategy. Is it just a fad diet or is it more than that?
Juicing is not a fad diet. Juicing is the most natural form of food – fruits, vegetables, plants, herbs, in juice form. It's been there for thousands of years and it will be there for another few thousand. It's nothing new, invented, formulated in a lab or created by a corporation. It is pure, simple, and delicious. It is straight from Mother Nature. So nothing fad about juicing.
Now it is absolutely a great way to lose weight, and the way that it works is by enhancing your digestive system. When your digestive system can get rid of accumulated waste in your body faster, then you lose weight. When your body is no longer carrying and holding on to what it does not need, then it gets in shape. Juicing simply lubricates the wonderful digestive system in your body to do what it is supposed to do but may have slowed down from years of abuse or neglect. A juice fast or detox is a fantastic way to reset and reboot your system and shed stubborn pounds.
4. What's the difference between daily juicing and a juice fast? What re the benefits of both?
With daily juicing, you are adding juices to your regular diet while at the same time also consuming your other foods. Of course, you will most likely start to lean toward healthier juices with daily juicing but you are still eating solid foods too. That's one benefit of daily juicing. Another is amazing energy and a feeling of rehydration and rejuvenation. It also increase your focus and gets rid of fogginess in your head. And over time after doing your daily juicing, you will notice that your cravings for bad food start to go away.
With a juice fast, you are giving up solid foods for the period of the fast. You are consuming just fruit/vegetable juices, plus water. On some fasts, you can have black tea or coffee if you wish. No solid foods. During a fast, your body goes into a rest mode for your digestive system and your mind goes into a beautiful zen state. You will be hungry for the first 24-36 hours but then your hunger goes away. You will be drinking as much green juice as you like but just limiting your fruit juices to keep the sugar level in check, even though it's natural fructose. The benefits of a fast are enormous. You will gain health, lose weight, detox, get rid of accumulated waste, energize and rehydrate your body, improve your internal systems, and reset your body like it's never been reset. It's a phenomenal experience even for a juice fast of as short as 3-5 days.
5. What do you need in your kitchen to start juicing? Buying expensive juicers and blenders is not always an option for many people, what minimal appliances do you recommend?
You need a juicer. You can get a juicer for under $100 these days. I'm seeing them everywhere. You do not need an expensive one but you do need one. A blender or food processor does not juice. They blend. They do not extract fiber from the fruits and vegetables, and hence you need a machine that does this.
With a juicer at hand, you are set. You need a cutting board, a knife and your fruits and vegetables. You should also have something good to store your juices in – although I recommend only storing for 24-36 hours and only to store the juice from a masticating juicer. Use tight-lid glass jar containers for your storage.
6. What is the benefit of juicing over eating raw fruits and vegetables?
With juicing, the body immediately absorbs all the nutrients whereas with raw fruits and vegetables, your body has to digest the fiber and chew the food and it takes time for the nutrients to reach your cells. Also, with a glass of juice, you get a ton of nutrients and minerals whereas to get the equal amount, you'd need to eat a huge portion of vegetables and fruits.
7. Farnoosh, in your opinion, what will make anyone fall in love with juicing?
You know, I believe that all the science and logic does not make us fall in love with anything. It is our feelings that tell us what to fall in love with. And for juicing, it is the taste. There is nothing more delicious than a glass of green juice or fruit juice made right and fresh. When you know that it can taste this good, you start to crave it and the love starts to happen naturally. Then you can affirm the feelings of initial love that is caused by such great taste with the pure logic that this is so unbelievably good for you and for your body. It's easier to fall in love with a happy conscience. Don't you think?
8. To finish our yummy conversation, could you please share with us your favorite green juice recipe?
Here, I give you one of my favorites. Enjoy!!!!
Lola Dreaming
8-10 strawberries

1 lemon, unpeeled

2 kiwis, mostly peeled

4 Persian cucumbers

2-2 1/2 cups of baby spinach

A handful of fresh mint

1 small yellow apple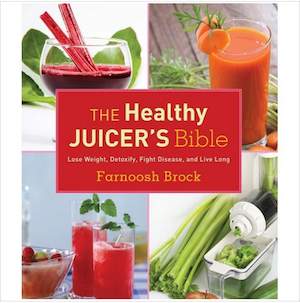 Do you want to find out more about juicing (I hope you do!)? Click here to get all of your juicing questing answered or join the Green Juicing Clinic.
If you are ready to start sipping your way to health then go ahead and order Farnoosh's book The Healthy Juicer's Bible: Lose Weight, Detoxify, Fight Disease, and Live Long from Amazon (they have the best price, as always.)
And of course don't hesitate to ask any of your questions in the comments below. Farnoosh will be happy to answer them!
Keep it balanced!
(Note: some of the links in this post are referral Amazon links which means that I will get a small commission if you decide to buy something by following the link. However, this article is not a promotional post and the links in it lead only to the resources that in my honest opinion might be helpful to you.)
Smart Thoughts (5)