Posted in | March 20, 2012 | Comments Off on I Believe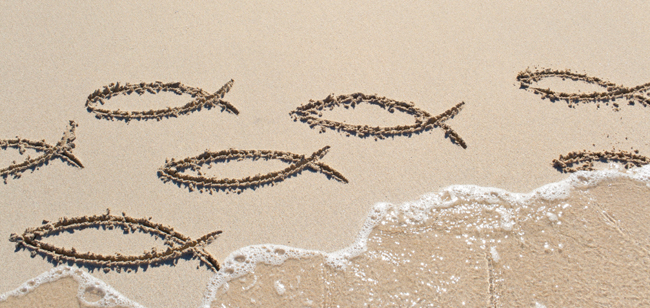 Every day I thank God for being alive, for my sorrows that make me stronger, for my joys that make me happy, for the people that guide me and who I can guide in life.
A lot of people ask me how I can be so calm and peaceful all the time, how can I stay in balance.
There are a lot of tips on this website that will help you balance your life in one way or another but for me personally the first and foremost one is believing in Jesus, my Savior.
I haven't been a believer my entire life and my life wasn't in balance either. However, I feel that for some reason God was always looking after me (even though I didn't deserve it), guiding me (even when I wasn't accepting Him) and keeping me out of harm's way. At some point in life (I was in my early twenties) I finally realized how lost I was and started making small steps to understanding God's plan for my life better and, most importantly, living for Him and not for myself.
My life changed forever after that moment. My attitude to life changed. My everything changed for the best. I am not a perfect Christian and I know that I will never be but one thing I know for sure
The LORD is my rock and my fortress and my deliverer,
My God, my rock, in whom I take refuge;
My shield and the horn of my salvation, my stronghold.
~ Psalm 18:2
More about my faith:
The Question I Was Scared to Ask
9 Ultimate Self Improvement Lessons Anyone Can Learn from the Bible
Christian Directory
Are you a Christian? Do you have a website? If so, I want to invite you to become a member of the Christian directory here on BalanceInMe. Just send me a message and tell me about your site. In the meantime take a look at these wonderful resources that I love:
First Baptists Church of Murrells Inlet – it's the church that I go to to and where I feel "at home." If you are ever in the Myrtle Beach area, SC please drop by and listen to Pastor Chris – he is great!
Live Holiness by Fr. Michael Najim
The Bridge Maker by Alex Blackwell
Spiritual Wellness by Angie Schuller-Wyatt
Problogger by Darren Rowse
Faithful Bloggers by Courtney Chowning
We for God
The Vitruvian Man
Paulean Ministries by Pastor Pitts
All Christians are different and just because we share our Faith it doesn't mean that we live the same lives and face the same obstacles.
Download this desktop wallpaper that will help you learn 9 Bible verses that I love the most.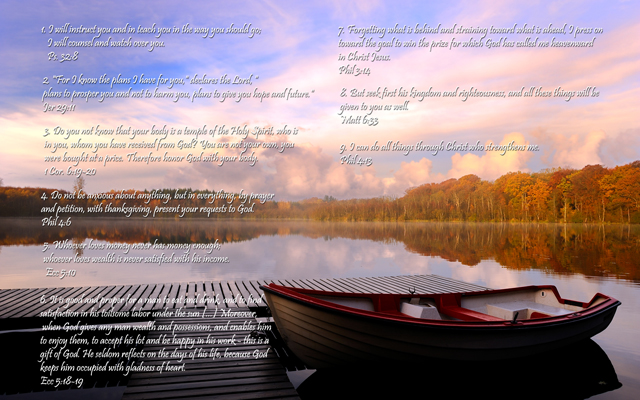 1280×800 I 1024×768 I 1680×1050
My favorite Christian movies:
Fireproof

Lt. Caleb Holt lives by the old firefighter's adage: Never leave your partner behind. Inside burning buildings, it's his natural instinct. In the cooling embers of his marriage, it's another story. After a decade of marriage, Caleb and Catherine Holt have drifted so far apart that they are ready to move on without each other. Yet as they prepare to enter divorce proceedings, Caleb's dad asks his son to try an experiment: The Love Dare. While hoping The Love Dare has nothing to do with his parents' newfound faith, Caleb commits to the challenge. But can he attempt to love his wife while avoiding God's love for him? Will he be able to demonstrate love over and over again to a person that's no longer receptive to his love? Or is this just another marriage destined to go up in smoke?
Courageous

Four men, one calling: To serve and protect. As law enforcement officers, they are confident and focused, standing up to the worst the streets can offer. Yet at the end of the day, they face a challenge they're ill prepared to tackle: fatherhood. When tragedy strikes home, these men are left wrestling with their hopes, their fears, their faith, and their fathering. Sherwood Pictures, creators of Fireproof, returns with this heartfelt, action-packed story. Protecting the streets is second nature to these law enforcement officers. Raising their children in a God-honoring way? That takes courage. Starring: Alex Kendrick, Kevin Downes, Ken Bevel, Robert Amaya, Ben Davies Director: Alex Kendrick Producer: Stephen Kendrick
Facing the Giants

In six years of coaching, Grant Taylor has never led his Shiloh Eagles to a winning season. After learning that he and his wife Brooke face infertility, Grant discovers that a group of fathers are secretly organizing to have him dismissed as head coach. Devastated by his circumstances, he cries out to God in desperation. When Grant receives a message from an unexpected visitor, he searches for a stronger purpose for his football team. He dares to challenge his players to believe God for the impossible on and off the field. When faced with unbelievable odds, the Eagles must step up to their greatest test of strength and courage.
Faith Like Potatoes

A farmer moves his family to South Africa and suffers a series of seemingly insurmountable losses. Through unlikely friendships and much needed divine intervention, he discovers his life's true purpose and it sustains his unwavering belief in the power of faith. A moving life journey of a man who, like his potatoes, grows his faith, unseen until the harvest.


"THE WAY HOME" is an inspirational true story about how a rural community rallied around a distraught family to search for their missing two year-old boy and by doing so changed the lives of many of those involved. Based on a true story, The Way Home is an inspirational and Family oriented story.