Posted in Work/Life Balance | August 12, 2013 | 1 Comment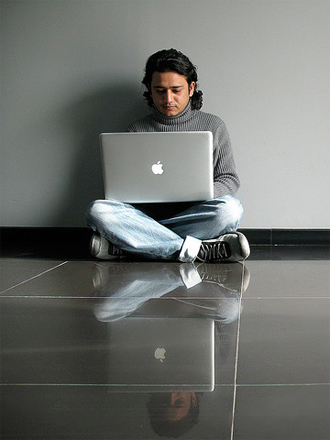 If you haven't considered how color and lighting affect your mood and productivity when working, you might be missing out on an opportunity to enhance your work environment and, in the process, improve your overall performance as well as life balance.
Bright colors such as yellow and solid white can cause eye strain and make a room seem too busy. The result can be that you see your tasks as more complex and demanding than you should. Yellow also is the most difficult color to read on a computer screen and should always be avoided as a monitor's background color. You should even limit the use of the ever-present yellow legal pad for long periods of time.
True Colors
Here are some interesting colors to consider for your office walls.
Light brown – A cocoa color is a good choice to stir the senses and establish an ambience inspired by nature. Do you want to feel strong and resilient in the office? This color will do the trick.
Gray – Did I hear the word 'boring'? Not really. It's a soothing color that will go well with colorful accents.
Beige – This simple color exudes calm and simplicity and, like gray, is easy to match with the rest of your office. The same can be said of off-white.
Moss green – This restful color is soothing but probably not soothing enough to put you to sleep.
Light orange – Representing creativity and excitement, this color will energize your mind and body throughout the day.
Pale blue – Its calming effect will help you stay focused and productive.
Moods and Emotions
While colors may affect different people in different ways, artists and interior designers agree that color has an effect on a person's mood and state of mind. For example, red, orange and yellow are warm colors that bring out emotions ranging from warmth and comfort to anger and hostility. However, these colors also have been known to spark creativity, increase focus and keep people motivated toward completing the task at hand. This is a plus, of course, if you are trying to spark marketing ideas or create an awesome graphic design.
Meanwhile, "cool" colors such as blue, purple and green might calm a person's nerves or evoke feelings of sadness or indifference. Calm would be good for an attorney or a banker; the other two don't seem to work for any profession.
Healing Colors
Some ancient cultures, the Egyptians the Chinese among them, turned to colors as a healing agent, a practice known as chromotherapy. Here are some of the colors still used today as an alternative treatment.
Red stimulates the body and mind to increase circulation.
Yellow stimulates the nerves and purifies the body.
Orange increases energy levels and heals the lungs.
Blue soothes illnesses and helps relieve pain.
Shades of indigo help heal skin problems.
Light Up Your Life
Using color is a good way to establish the mood you seek in your office, but lighting is just as important. Here are some tips that will help you be both comfortable and productive.
Choose a color and use as much of that color as possible to establish the mood you are looking for. It's OK to use more than one color.
Use mini-blinds, curtains and other window treatments to let in the amount of light that will complement the colors you are using. You can even use light fabrics that filter the light and give it a colored effect.
Get rid of clutter and furniture that isn't being used, which will give the room a spacious, airy feeling.
Utilize framed art, posters and photos that complement the color of your walls.
If you can afford to replace your floor, that might help establish the mood you seek. A light-colored wood floor can help create a warm, natural feeling.
You can change the lighting and color in a room by using colored bulbs or colored shades on your lamps.
If you have room, plants will give your office a natural look and will also help purify the air.
Light, modern furniture, as opposed to dark, box-shaped pieces, can help brighten a room.
Brighter lighting generally helps employees stay alert and active, while lower levels of light tend to establish an atmosphere of relaxation.
Some studies have shown that improved lighting can have a substantial impact on a company's bottom line. For example, in the late 1980s, the post office in Reno, Nev., renovated its lighting systems to make them more worker-friendly. The post office cut its energy bill but its employees also became the most productive mail sorters west of the Mississippi, boosting revenue by nearly $500,000 a year.
A little redecorating can go a long way toward increasing productivity in your office. Changing the color of the walls and adjusting the lighting can have a positive effect on the way you perform and feel about your work.
What colors do you use in your office? Share your decorating ideas in the comments below.
Smart Thoughts (1)