Posted in Balanced Body, Balanced Nutrition | January 27, 2012 | 23 Comments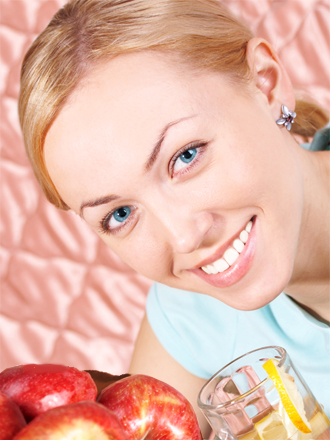 What is healthy eating? Even though this question seems simple the answers will vary greatly depending on who you ask. No wonder that eating healthy becomes very confusing for a normal person like you or me.
There are plenty of theories about healthy eating nowadays but most of them won't work for you. A diet/nutrition plan created without consideration of your preferences, goals, budget and simple likes/dislikes is just a waste of time.
I personally don't like turnips and celery and there is no way that I can tolerate anything slimy in nature (like boiled okra or runny eggs…yuck!) If somebody told me that I had to eat those items every day to stay healthy I would say "Forget it!"
If you want to create a healthy diet that you can stick to then you need to answer the following questions:
1. What is your budget?
Do you know how much you spend on food monthly? How much would you like to spend ideally?
In August I decided for the first time to track my monthly expenses. The number shocked me (to say the least!) Writing down every little thing that we were paying for made me realize how many useless purchases we were making (especially for food.) Obviously, eating out was the biggest problem but even grocery shopping was way too high for our family. In January we managed to cut our grocery expenses by 56% and I am very satisfied with the result.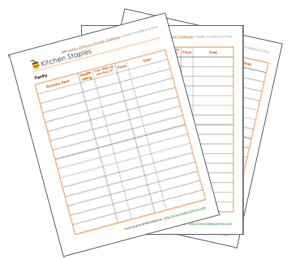 When you are in a budget-saving mode you need to eliminate expenses that are not imperative to you. Obviously the budget will be different for every person and your healthy eating plan will depend upon it. For John from New York $200/week on groceries will look like a major cut back while for Jane from Alabama $75/week actually means splurging.
Homework: Start tracking your current food expenses and figure out your ideal budget. If you want to make this process a little faster download the Grocery Budget template and make a list of all your pantry, freezer and refrigerator staples. Include the prices and how often you buy them – this will give you a general idea of how much you are currently spending on food.
2. What are your personal considerations?
Make a list of all goals that you would like to achieve with healthy eating. Include your personal likes/ dislikes, food intolerances or allergies. A healthy eating plan should satisfy every single point on your list.
Right after you are done creating this list write down how you can achieve these goals.
I am lactose intolerant so obviously I have to consider this when creating my personal healthy eating plan. I used to buy lactose-free milk but I felt that my body still wasn't processing it right. This month I am moving to soy milk (which I disliked most of my life) and am trying to acquire a taste for it.
If you feel that something isn't working for your body then now is the time to try a different diet.
Here are some common considerations for you:
3. What are your food preferences?
Going from eating pizza to munching on broccoli overnight is a recipe for disaster. In order to stick to your new diet you need to adjust it to your taste and your food preferences. Make a list of taste/items that you love and the list of items that you despise and can't eat at any condition.
During the Healthy Eating on a Budget Challenge you will focus on making healthier choices to satisfy your taste and avoiding at all costs ingredients that you hate.
4. Where are you right now?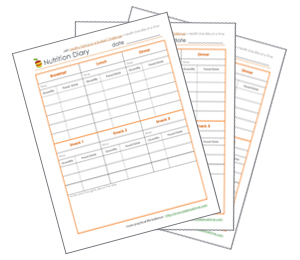 In order to make healthy eating changes you need to look critically at your current diet. What are the healthiest/unhealthiest meals that you eat? What changes will be the easiest ones to make?
Download a Food Diary template and commit to filling it out for the next few days. In the Notes section of the template analyze what you ate during the day, what choices were healthy and which ones not so much.
Also pay attention to how much money you spend on eating daily especially if you buy your lunch or coffee daily. All these little things make a big difference for your health and for your budget.
5. How are people around you involved in your healthy eating plan?
If you cook for the entire family then obviously you need to consider everybody's tastes. Trying to fix 2 or 3 different meals to satisfy everybody's preferences will be an absolute nightmare. Write down everything you need to remember about members of your family before you start the challenge. You can use the questions 2 through 4 to guide you through the process.
6. What is your personal idea of a healthy diet?
Take a look at all of the answers that you just wrote down. Where do they take you?
A lot of diets are based on extremes like
eating very few carbs as opposed to being a carbohydrate-junky,
going vegetarian or vegan as opposed to being a determined carnivore,
eating only raw foods as opposed to eating highly processed foods,
cooking everything from scratch as opposed to buying everything premade,
eating no sugar at all as opposed to having sugary treats all day long,
going low-to-no fat as opposed to devouring greasy foods all the time.
In order to make your healthy eating plan work you need to find a golden middle between these options. Don't let fads influence your health choices but rather listen to your body and choose what is right for you. The next 30 days is the perfect time to try something new and if it doesn't work for some reason, then you can always go back to your old lifestyle or try a different approach.
My personal take on healthy eating
If everything you just read still seems confusing then let me tell you what healthy eating on a budget means for me. Feel free to follow in my steps but I greatly recommend that you create your personal healthy eating plan.
I am not a vegetarian but I eat red meat once every 3-4 months, eat low fat poultry 2-3 times during the week, cook fish at least once a week (more if possible) and enjoy vegetarian meals the rest of the time.
For every meal I try to stick to the 4/1/1 carb/protein/fat ratio. I am not on a low carb diet but I choose carbs rich in fiber, whole grains and vegetables most of the time. Refined carbs (cookies, sugary cereals, white bread, candy etc.) are just occasional treats and not every-day staples.
I love sweets (and frankly speaking I couldn't imagine my life without them until recently) but now I stick to natural "candy" (a few pieces of dried apricots, bananas and fruit low in sugar like apples and berries.) A few times a week I will treat myself to a small piece of dark chocolate or a small bowl of natural ice-cream (I can't imagine my life without it even though I am lactose intolerant :-))
I don't drink any soda or any other sweetened drinks. My favorite drinks are water, flavored green tea without sugar (hot or cold), an occasional glass of juice or a cup of black coffee.
I have a rule: every meal should have at least one green or brightly colored item in it. For breakfast I add frozen berries to my cereal, for lunch I have an apple or add a small salad to my meal and for dinner I always make vegetables the main ingredient.
95% of the recipes that I use take 30 minutes or less to prepare. Anything longer than 30 minutes is cooked during the weekend when I have some extra time.
I avoid buying processed foods (like canned soup or pasta sauce) due to high contents of sodium and preservatives. However, I LOVE hot dogs (so does one of my girls) and I have this treat every once in a while (I choose turkey dogs with no nitrates added.) Some processed foods like thin-crust pizza (no pepperoni) and canned vegetables (corn, beans, peas etc.) are still staples in my house because they are easy, time-saving and pretty healthy.
I say a definite NO to:

artificial sweeteners;
High Fructose Corn Syrup;
Partially Hydrogenated or Hydrogenated Oils (trans fats);
grocery items with ingredient lists longer than 4 lines.

Vegetables are usually minimally processed in my house (sautéed or steamed for a few minute, sometimes grilled or roasted.)
Healthy fats (nuts, vegetable oils) are an essential part of my diet. I don't cook low-to-no-fat meals however I limit the amount of saturated fat by using lean meats, avoiding heavy cream and enjoying butter sparingly.
I stick to all these rules only 90% of the time and enjoy myself (in moderation) the remaining ten.
It took me and my husband several years to come up with these diet guidelines but they work for us. If you decide to follow my example please pick only 1-2 habits at a time, otherwise you will be overwhelmed and disappointed.
A healthy balanced diet is a harmonious combination of all of the mentioned above factors without sacrifices that you can't sustain for a lifetime. There is a healthy alternative pretty much for anything and with a little creativity and some research you will be able to find it.
Homework for the week:

Answer the following questions:

What is your budget? –use the Grocery Budget template
What are your personal considerations?
What are your food preferences?
Where are you right now? – use the Food Diary template
How are people around you involved in your healthy eating plan?
What is your personal idea of a healthy diet?

Based on these answers create your personal Healthy Eating Plan.
Share your answers or your plan in the comments below.
Please remember that this is just the first "draft" and you will be updating it along the challenge.
Do you have any questions? Please ask them in the comments and start your question with QUESTION.
If you like this article and are enjoying this challenge please invite your friends or family members to join us. Please Tweet, Facebook or email the link to this article to your friends.
Keep it balanced!
P.S. Healthy eating is only one part of a balanced lifestyle. I encourage you to take control of your life and start making small steps to a more balanced living every day.

If you don't know just how to simplify your life then I would like to help you. Take a look at the Reclaim Your Life ecourse, and don't forget to check out the Lifestyle Revolution package – a special program that I created to help you live a more active and balanced life without sacrificing your lifestyle.
Photo credit: dreamstime
Smart Thoughts (20)