Posted in Balanced Mind and Soul | April 4, 2013 | 16 Comments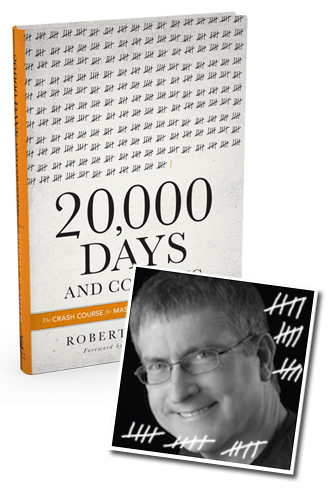 Note from Anastasiya: I hope you will enjoy this excellent article but also won't miss the chance to win a free copy of Robert D. Smith's book 20,000 Days and Counting. You can read my honest review as well as the giveaway rules at the bottom of this post.
Intrigued?
Keep reading!
20,000—that was the number that stared back at me after I typed my birth date into a countdown clock widget a little over three years ago.
Something moved in my spirit. I jumped out of the chair, threw some clothes in a bag, and pulled out of the driveway with no particular destination in mind.
When the time felt right, I stopped at one of The Leading Hotels of the World and booked a room with one objective in mind—planning my next 20,000 days.
Why Counting Your Days Will Make You Insanely Productive
Most of us measure our lives in years without ever really stopping to think how that might affect us.
We celebrate yearly birthdays and anniversaries.
We make New Year's resolutions.
We divide each year into financial quarters.
But we never really stop to measure the power of a single 24-hour period of time. So often we TOTALLY overestimate what we can do in a year…while drastically underestimating what we can accomplish in the next 15 minutes.
Daily, you are creating a life book. Today might not even be a whole chapter. It could be just a few paragraphs, maybe only a single sentence. It is critical that you craft that sentence with on-purpose intention.
Since this exact moment is the only thing you are guaranteed, it's in your best interest to learn how to get as much out of it as you possibly can.
3 Steps for Getting the Most out of the Next 24 Hours

1. Count your days.
Start by finding out how many days you've been alive. If you want a quick and easy way to do it, just enter your birth date into the Days Calculator we built on TheRobertD.com.
This experience may not cause you to do something as crazy as jumping in your car and leaving town with now destination in mind, but I guarantee it will be powerful moment for you.
2. Contact important people.
Who counts in your life? What relationships do you need to honor? What value can you add to your loved ones' lives?
Pick up the phone or write out an email to one of these people. Tell them you're grateful that they are in your life. Then tell them why. Simply celebrate all the positive things they are doing. Very few people receive an actual standing ovation in life. This is your chance to give them your version of one.
When you express gratitude to someone who is meaningful in your life, your entire perspective will change for the rest of the day. Your mind will be operating on a different level than the majority of people around you. Gratitude has a habit of helping you refocus on the things that matter most—purpose, relationships, love, etc.
If you're unsure of where to start, there is one simple exercise anyone can do that can be an incredibly freeing, magical experience: write a letter to your parents and thank them for having you. This is something we often overlook. Without our mothers and fathers, regardless of whether they're alive or dead, a positive or negative influence on our lives, we would not be here. It's a bond that can't be duplicated.
The amazing part about this is that you don't even have to send the letter to get value from the experience. The value is in the act of actually writing it.
3. Recalibrate your life's mission.
You may think you have your mission in life figured out; you may not. Regardless, it never hurts to do this quick exercise that will allow you to either discover or recalibrate your true purpose in life.
Believe it or not, 20 minutes from now, you can actually have tremendous certainty as to exactly what you should be doing with yourself. Before you roll your eyes, here's the #1 rule—be open to this. Expect it to work and it will. Here's what you need to do:
Get out a blank sheet of paper or open up a blank document on your computer. Title it "My Purpose in Life."
Start writing and do not stop. Write whatever crosses your mind. Words, phrases, complete sentences, incomplete sentences…it doesn't matter. Get it all on the page. When you think you're done, keep going.
Keep writing until you can look at the page and see something that either makes you cry or jump for joy. Take the whole document and piece together one sentence that encompasses your purpose.
I had no agenda when I sat down in that hotel room over three years ago to plan my next 20,000 days. In fact, I'm absolutely not guaranteed another 20,000 days. James Dean, who was famously quoted as saying, "Dream as if you'll live forever; live as if you'll die today," only lived for 9,000 days…on the dot!
What I came to realize is that it doesn't matter whether we live for another 20,000 days, or another five minutes. There are no guarantees. All we can do is simply live with intensity and intention with every single passing minute of every single day. When you live each day like that, the years take care of themselves.

Stop living year to year. Number this day, and keep counting UP!
From Anastasiya: I had a chance of reading the new book by Robert D. Smith 20,000 Days and Counting (aff link.) When I first got the book I started flipping through the pages trying to figure out if it was something I really wanted to read or if it was just another self improvement feel-good pep talk with no practical benefit.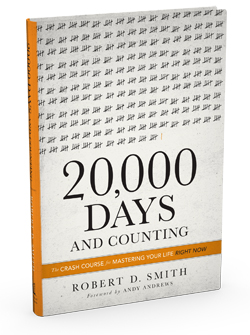 I opened the book on page 16 and the first paragraph that jumped in front of my eyes was this one:
The Bible says that without a vision people will perish (Proverbs 29:18). A vision or dream has given me direction, something to aim at, to work toward. It keeps me marching forward.
That was the piece of advice I needed at that very moment and the Bible verse that accompanied it made it that much more powerful.
After that moment I was determined to read the book cover to cover and to absorb the message that Robert D. had to share.
After all, what book could better accompany my journey to motherhood (second time in a row)? Every day counts, every day is a blessing, every day is a miracle especially when you take time to spend it with the ones you love.
I highly recommend reading 20,000 Days and Counting to everyone (even my husband is interested in reading it right now though I am the only personal development author that he has ever read) because it delivers a practical message in an easy-to-digest format. It's very fitting for anyone looking to bring more balance into their lives.
Even better, you can win a free copy of the book if you follow these simple steps:
Leave a comment on this post sharing why you want to read this book.
Share this post with your friends: tweet it, like/share it on facebook, stumble it or simply email it to a friend. Spread the love!
You must live within the continental US to win the book.
Smart Thoughts (16)