Posted in Balanced Lifestyle, Balanced Mind and Soul | July 15, 2014 | Comments Off on How To Create The Perfect Retreat For Your Mind, Body & Soul
Regardless of your age and religious beliefs, everyone has to understand that keeping your mind, body and soul in check is the best way to live a stress-free lifestyle. Nobody wants to feel worked up all the time, and so it's important that we all try to create the perfect retreat within our own homes. Of course, there are many different ways of achieving this. We're going to concentrate on your bedroom more than anything else today, but you can take the advice and apply it to another area if you feel the need.
Firstly, you'll need to take the size of your room into consideration. It needs to be large enough for both you and your partner to spread out and relax. If it's not, perhaps it might be a good idea to take your relaxation times on a rota. That way, you'll never begin to feel claustrophobic. After that, all you need to do is follow the advice listed below.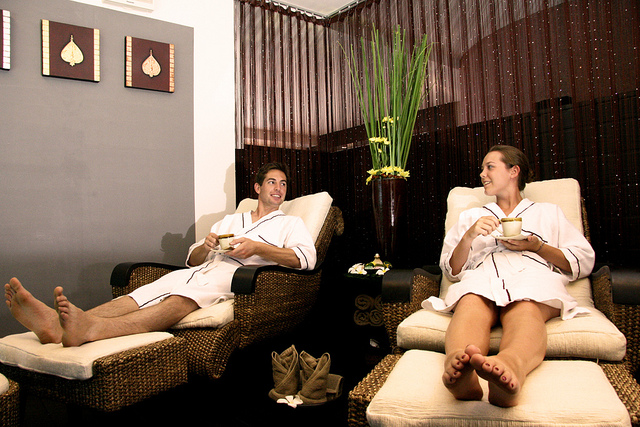 Create a calming atmosphere
If you're redesigning your room from scratch, it might be wise to invest in some good quality bedroom furniture. You want the comfiest bed you can afford, as this is the place where all the stresses of your working life are stripped away. Also, it would be a good idea to invest in a decent stereo system because music is brilliant at lifting your mood. There are lots of CDs available that play nature and animal sounds. Maybe you should invest in some?
Imitate a health spa
If you've never been to a health spa before, make a booking and check one out. You'll notice they all tend to follow the same basic themes and ideas. Plain walls without too many distractions, and seating that allows you to lean back and relax. There's no reason you can't follow their trends and purchase something similar for your own home. Putting your feet up and reading a good magazine while listening to soothing sounds could be exactly what you need.
Keep an inspirational library
Though most people don't bother with books these days, reading is good for the soul. In fact, it's essential if you're feeling stressed or worried all the time. So, head down to your local bookshop and buy some titles containing inspirational quotes and self-help advice. Whenever you're feeling the strain, get into your dressing gown, sit down on the comfy seats, put your music on and start reading. I guarantee you'll feel ten times better within about an hour.
You should now have some great ideas that could help when making changes to your home. When all's said and done, you need to make sure you look after yourself mentally. Far too many people concentrate all their efforts on physical exercise only to have a breakdown in later life. Contrary to what you were taught at school, your mind needs a lot of attention too.
Thank you for taking five minutes out of your day to read this post, it's nice to know we're making a difference and helping people.