Posted in Balanced Body | July 11, 2011 | 14 Comments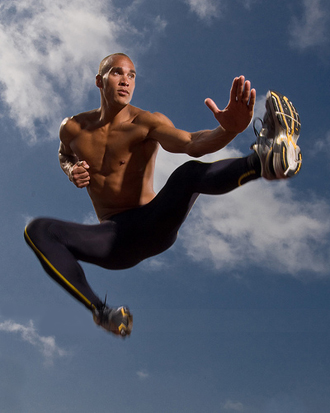 "There's no such thing as overtraining, only under-recovery."  -Unknown
Overtraining has long been a concern for competitive athletes who push the envelope of human performance, but it can affect anyone who exercises regularly.  The businessperson who does spinning classes on her lunch break can be equally susceptible to overtraining as the professional triathlete.  As an Ironman, finding balance in my workout plan has been key to avoiding overtraining and maximizing my athletic performance.
Overtraining is a physical, behavioral and emotional condition that occurs when the volume and intensity of an individual's exercise exceeds their capacity to recover.  They cease making progress and can even begin to loose strength and fitness.  But those negative performance effects are only the tip of the iceberg.  Overtaining can also lead to excessive and unhealthy weight loss, heart palpitations, injuries, constipation, diarrhea, interrupted menstrual cycles, infections, insomnia, low testosterone and depression to name just some of the possible effects.
But the term "overtraining" can be deceiving.  While training volume and intensity are key factors, they are only part of the equation.  What may be excessive training for me could be optimal for you.  We all have different levels of fitness and need to train accordingly.  Recovery is the key to finding balance in the overtraining equation.  And if you can find that training vs. recovery balance, not only will you avoid overtraining, you'll also maximize your fitness gains and progress more quickly towards your goals.
So how do you know if you're overtraining?
Common symptoms include:
Lack of interest and motivation – Sure, exercise can be hard and realistically we can't always be excited to push ourselves in training.   However, if you regularly look for ways to skip workouts or if you're just going through the motions, you may be overtraining.
Persistent muscle soreness – Exercise breaks down muscle fibers resulting in muscle soreness, but that soreness should not persist. If your muscles remain sore for more than a couple of days, even after the most intense workouts, chances are your muscles are not recovering as quickly as they should.
Persistent fatigue – Fatigue following exercise should be short lived.  In fact, regular exercise should increase your overall energy levels, not lower them.
Injury – Have your shin splints flared up for the first time after years of running?  Maybe you pulled a shoulder muscle on that last set of shoulder presses?  If you are suddenly experiencing more injuries than usual you may be pushing your body harder than it can handle or you're not allowing for adequate recovery.
Irritability, depression and mental breakdown – Are you snapping at your spouse?  Maybe you're feeling depressed or you're overwhelmed and had a breakdown in the office.  Overtraining doesn't just affect us physically, it also wears us down mentally.
Elevated heart rate – Granted, most of us don't track our heart rate on a regular basis.  But, those athletes who train with a heart rate monitor can use the data as an indicator for overtraining.  If your heart rate is higher than usual, and remains high for a number of workouts at the same level of exertion, you may be overtraining.
Susceptibility to infections – Are you suffering from a summer cold when everyone around you is thriving in the sunshine?  Are you getting sinus infections or a sore throat more frequently than before?  Your body may be telling you it's overtrained.  When your body continually works overtime to recover from training it can't do an effective job of fighting infections.
If you find yourself suffering from any of the above symptoms, you may be overtraining.  If you are seriously overtrained, the only solution may be to take a break from all exercise and allow your body to recover fully.  But, if you recognize symptoms of overtraining early, some simple steps can usually put you back on track.  And the great thing is that the steps to help you recover are the same things you should do to avoid overtraining in the first place.  So don't wait, find balance in your workout plan now.
Here are some tips to achieve balance in your workout plan and avoid overtraining:
Eat well – Your mother was right, you are what you eat.  Exercise breaks down your body and needs proper nutrition to recover.  Eating a healthy diet is probably the most important step to ensuring proper recovery from training.  Not sure what a healthy diet consist of?  Check out this simple strategy for a healthy diet.
Sleep – The body repairs and strengthens itself between workouts, mostly during sleep.  Getting a good night's sleep is essential to effective recovery and helps to regulate cortisol levels, which in turn assist with enhanced performance. Read more and discover how to get your most restful sleep ever.
Cycle your training – You can't perform at 100% capacity all the time.  Even elite athletes must cycle their training to maximize progress and prevent overtraining.  Cycling workouts may be as simple as taking one or two rest days per week, or developing a more complex plan that incorporates less intense periods of exercise.  This is essentially a form of active recovery that allows you to train while giving your body "active" rest.  The concept is similar to a runner's pre-race taper.
Listen to your body – Plans can and should be adjusted as needed.  Sometimes we don't have the necessary energy or fitness to meet the requirements of a workout plan.  In those cases, adjust and do what is appropriate.  Exercise should be challenging, but by listening to your body you can better identify those times that you should take it easy.  And who knows, your body may actually tell you that it can work harder.  Meditation is an excellent compliment to a workout plan and helps you tune in to your body's needs. For a beginners guide to meditation, check out Walking Meditation.
Have fun – While exercise can be challenging, it should also be fun.  Find ways to exercise that you enjoy and you'll lessen your chances of overtraining.
If you catch symptoms of overtraining early, they can be handled with relative ease.  Simply implement these steps and continue to monitor your performance.  But don't wait until you're overtrained.  Implementing these strategies now will help you achieve balance in your workout plan and avoid overtraining.
What tips do you have for finding balance in your workout plan?
Jason Billows is the creator and writer of Stop & Breathe, a blog dedicated to savoring life one breath at a time. Jason believes that by slowing down, reflecting, learning and focusing on what is truly important to us, we can create happy, healthy, balanced and fulfilling lives. Stop & Breathe provides insights, information, inspiration and tools to help readers create the life they've always dreamed of.


Photo Credit: targphoto
Smart Thoughts (12)