Posted in Balanced Nutrition | February 15, 2012 | 12 Comments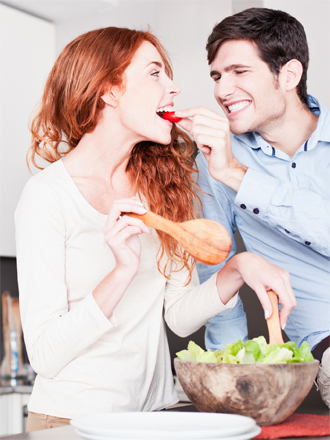 Do you agree that fixing food is sometimes difficult and unappealing?
The other day my husband and I had a rough work day. The girls weren't exactly angels either so we had to stop our work projects every few minutes to break up fights, use sophisticated diplomatic approaches to make them share toys and resolve everyday crises. Around 7 p.m. our brains were officially dead, our bodies were screaming all kinds of things at us for sitting in one position all day long and then hunger decided to show up in its most violent and irritating form.
Here we are, exhausted, hungry, stressed out, irritated at the end of the day.
Have you ever been there?
Of course the first thing that came to our minds "Let's order Chinese!" It wasn't exactly a bad idea but it wasn't the healthiest or the most budget-friendly choice. I decided to master up my will power and move to my kitchen shift.
Surprisingly, cooking really refreshed me, made me move some, kept me from flopping on the couch and watching TV and helped me make a simple and yet satisfying meal in 15 minutes. Ordering Chinese would have taken at least twice that time, and more than triple the money.
Cooking meals is not always easy when you are tired, when you don't know what to cook or when all your dishes require a long prep time. Like I mentioned before numerous times, I rarely cook meals that take more than 30 minutes (start to finish) and I always focus on using natural and budget-friendly ingredients. Let me share a few "secrets" with you.
1. Have your kitchen staples ready
We talked about budget-friendly shopping last week, but let me remind you about my favorite pantry staples:
Rice
Pasta
Quinoa (and/or barley)
Low-sodium vegetable/chicken stock
Diced or crushed tomatoes
Tomato paste
Oils (canola oil for coking, olive oil to drizzle over finished dishes – it loses its healthy qualities when heated)
Spices (no-salt added Italian spice mix, Mexican spice mix, cayenne and chili pepper, cumin, turmeric, cinnamon)
Fresh garlic and onions
Lemon
Low-sodium canned beans
Oatmeal
Frozen vegetables (mostly green beans, corn and peas.)
Plain Yogurt (preferably Greek)
Cheese (I use grated Parmesan and any other cheese like reduced-fat Cheddar, Colby etc.)
Canned tuna and salmon
Eggs
Most of these items have a very long shelf life so you can stack up on them when you find them on sale or when you go to warehouses like Costco (my favorite) or Sam's Club.
2. Be smart with perishables
Buy perishable items like produce, milk, meat or poultry, fish etc every one or two weeks. Meat, poultry and fish can be frozen if you buy them on sale. I always have 1-2 extra pouches of chicken or ground turkey in my freezer, as well as frozen fish fillets. Work your weekly meal plans around the items that you have in the refrigerator and feel free to substitute them for missing ingredients in recipes.
3. Create your "difficult-day" schedule
We all have days when we know we just don't have the mental or physical energy to cook. Mondays are usually stressful no matter where you work. Some days you might be coming home from work late or you might have additional commitments that night. Planning to cook a long meal on those days is a recipe for disaster. Take a simple calendar and mark days of the week when you know you need something fast and simple.
I teach evening Pilates classes on Mondays, so I always get home late. That is why Monday night is a spaghetti or leftover night in my house. If I have low-sodium jarred pasta sauce I will simply pour it over spaghetti and sprinkle with some Parmesan for a healthy and fast meal. Even if I don't have pasta sauce fixing one takes about 10 minutes (as long as it takes to boil spaghetti)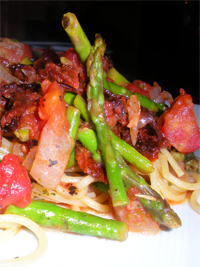 Easy spaghetti sauce recipe
½ cup chopped onions
1-2 cups any vegetables (fresh or frozen spinach, green beans, asparagus, carrots, bell peppers, mushrooms etc.)
3 cloves fresh garlic, crushed or 2 tsp garlic powder
2 14.5 oz cans diced or crushed tomatoes
1 tbs Italian seasoning mix
A pinch of cayenne pepper (optional)
2 tbs julienned sun-dried tomatoes (optional)
1 tbs canola oil
2 tbs olive oil
Heat oil in a deep skillet, add chopped onions, garlic and sun-dried tomatoes (if using). Sauté for 2 minutes, add the rest of the vegetables. Keep cooking on medium-high heat for another 2-4 minutes just until the vegetables are slightly cooked but still are crisp on the inside. Add diced/crushed tomatoes and spices and bring the sauce to a boil. Cook for 2-3 more minutes, turn the heat down and olive oil. The spaghetti should be ready by this time. Feel free to top your plate off with parmesan cheese, olives, left-over chicken or serve as is.
Another great option is using leftovers on your busy days. Most of the time you can plan ahead for your busy day and cook double portions of food the previous day.
4. Cook double portions
There is no need in cooking fresh meals every day. Your life will get much easier if you have a simple side item already waiting for you in the fridge (like rice, quinoa, barley or cooked beans) that you can just heat up and mix with some fresh fast-cooking ingredients (veggies.)
I wouldn't recommend cooking vegetables in advance since they lose their healthy nutrients, flavor and that fresh crisp taste. However, any type of meat, beans or sauce (like the one mentioned above) can be cooked once and eaten twice.
5. Reuse leftovers
Beans and any meat are great in burritos or wraps the next day. Leftover chili can be served over rice or pasta. Leftover chicken or fish is a great base for a savory sandwich. Use your leftover rice for fast Fried rice with peas, cabbage and eggs. The possibilities are really limitless.
6. Create your simple meal plan
Any meal can be created by combining two or three simple ingredients:
The base: any whole grains, beans, root vegetables like potatoes, sweet potatoes, beets and carrots.
Protein: beans or tofu for vegetarian sources, poultry, meat (I personally don't use red meat or pork when cooking), ground poultry (I like 99% lean ground turkey), fish or shellfish fresh, frozen or canned.
Veggies: anything you like or have in the refrigerator. I prefer raw veggies in salads or with dips on warmer days and slightly cooked ones during the colder season. The healthiest and fastest ways to cook veggies: stir-fry or sauté in a little bit of oil, steam for a couple of minutes, grill or even bake (baked broccoli sprinkled with fresh garlic and a little bit of Parmesan are my favorite) or pickled.
For a healthy meal you need to start from the bottom: choose what vegetables you would like to use and accompany them with a base item or protein. Combining all three can be a little overwhelming for your digestive system and for your kitchen.
7. Fast Poultry cooking methods
One of the reasons I love poultry is because it's extremely fast and easy to cook. A lot of people avoid it because it can be too dry or boring over time.
Secret #1. Marinate your chicken in a mixture of lemon juice and vegetable oil with a pinch of your favorite spices, salt and black pepper. Make sure to poke the chicken with a fork to make sure that the marinade gets inside the meat. Let the chicken sit for at least 30 minutes or let it stand overnight.
Other great marinades: Italian salad dressing, beer mixed with a vegetable oil, white cooking wine and vegetable oil.

Secret #2. Don't overcook your chicken. Depending on the recipe you are using, follow the cooking guidelines and don't stir-fry your chicken for 40 minutes if it has to be cooked only for 10.

Secret #3. Add a can of tomato paste and ¼ cup of cheese to 99% lean ground turkey to boost the flavor and make it taste like a full-fat version without all the extra calories and fat. This mix is great for burgers, meatloaf or lasagna.

Secret #4. Cook the whole chicken during the weekend and use leftover meat for lunches and dinners during the week. Buying the whole chicken is much cheaper than buying chicken breasts. That's the trick I use to afford organic chicken without putting a hole in my budget.
8. Fast and cheap fish recipes
Secret #1. Any fish can be baked with a little bit of salt, pepper and lemon juice in under 20 minutes. If you are buying fish at your local grocery store most of the time it has been previously frozen. If you see fish fillets on sale ask to get the ones that haven't been thawed yet – that way you can put them straight in your freezer and use them when needed.
Secret #2. Canned salmon is a great alternative for fresh and it can be used in many dishes.
Salmon patties (use 1 cup of oatmeal instead of bread crumbs for a meatier and more satisfying taste.)
Use salmon meat in pasta salads.
Add salmon meat to pink pasta sauce (to skip unhealthy heavy cream add 1 cup of skim milk to Marinara sauce, you won't notice the difference.)
Use it on sandwiches instead of tuna.
Secret #3. Use light chunk tuna instead of albacore. Light tuna is lower in Mercury, cheaper than Albacore and higher in omega-3s. You can use it the same as canned salmon.
For a new twist on tuna salad try the following:
Use only 1 level teaspoon of mayo for a can of tuna and mix it with your favorite mustard.
Use plain Yogurt instead of mayo.
Add a little bit of hot sauce.
Add chopped pickles, onions or celery.
Mix even parts of plain yogurt and ketchup for the Thousand-Island-style tuna sandwich.
Secret #4. Catch your own fish. While fish can be expensive to buy the cheapest and most eco-friendly way to get it is catch your own. My husband combines his passion for diving with spear fishing that is why our freezer always has at least a few zip lock bags of fish in it.
9. Non-boring vegetable recipes
Secret #1. Cook vegetables as little as possible to preserve their healthy nutrients and keep them from getting mushy. Stop cooking vegetables when they just start becoming brighter in color or stir-fry them for a quick meal.
Secret #2. Add lemon juice to your vegetable stir-fry for a boost of flavor.
Secret #3. Use spices to change the taste of even the most boring vegetables (the same tip goes for beans.)
Are you having a spaghetti night? Sauté your favorite vegetables with a little bit of Italian seasoning mix (basil, oregano, rosemary, parsley, garlic powder.) Shred cabbage and carrots, mix them with canned corn, chopped onions and tomatoes (optional), sprinkle with cumin or Mexican seasoning mix for a fast salad that can sit in the refrigerator for several days. Serve with chunky salsa, use in burritos made from leftovers, tacos or use it as a side dish.
Secret #4. Bake your green vegetables. Broccoli, asparagus, carrots and green beans are delicious when baked at 425 F in the oven for 15 min with a little bit of oil and your favorite spices.

Secret #5. Marinate your vegetables. Are you tired of fixing steamed broccoli all the time? Try this recipe for a festive and healthy side dish that can keep in the refrigerator for a long time. Add carrots, bell peppers, cauliflower, onions or raisins for a different flavor.
Secret #6. Add cut-up vegetables to pretty much every meal. If you or your family members are not big fans of vegetables then you can sneak the veggies into lasagnas, pasta sauce, meatloaf, mac and cheese, burgers and pretty much any other dish.
10. Use flavor-boosters
Keeping your grocery budget under control is always good unless it makes your food completely flavorless and boring. To make every meal interesting you need to use specialty ingredients.
Sun-dried tomatoes: add a handful to pasta sauce, chili, rice pilaf or quinoa.
Parmesan cheese: add ¼ cup to lean meals like turkey or salmon burgers, soups, stews or chili to enhance the flavor.
Artichoke hearts, olives and capers are a great way to liven up any Italian meal.
Vinegar (Balsamic, red wine, sherry, or regular apple cider) is a great marinade for any vegetables and can boost the flavor of meat or any stir-fry.
Hot sauce is good for your heart and for your taste buds.
Worcestershire and soy sauce for salty richness.
Get inspired to cook with these 50 healthy 10 minute meals.
Do you want to know the biggest secret to healthy and cheap cooking?

Use your creativity.
If you go by the book all the time then you will never be free to create meals that are fun, inexpensive and satisfy even the unhealthiest cravings. Turn each time in the kitchen into an outlet for your creativity. You might feel a little uncomfortable the first few times, and maybe several meals won't turn out exactly how you planned but soon you will an expert in impromptu cooking.
Homework:

Share your favorite fast dinner or lunch recipes.
Spread the word about this article if you enjoyed it.
Ask your questions if you have any.
Keep it balanced!
P.S. Healthy eating is only one part of a balanced lifestyle. I encourage you to take control of your life and start making small steps to a more balanced living every day.

If you don't know just how to simplify your life then I would like to help you. Take a look at the Reclaim Your Life ecourse, and don't forget to check out the Lifestyle Revolution package – a special program that I created to help you live a more active and balanced life without sacrificing your lifestyle.
Smart Thoughts (10)