Posted in Balanced Body, Balanced Mind and Soul | May 15, 2012 | 18 Comments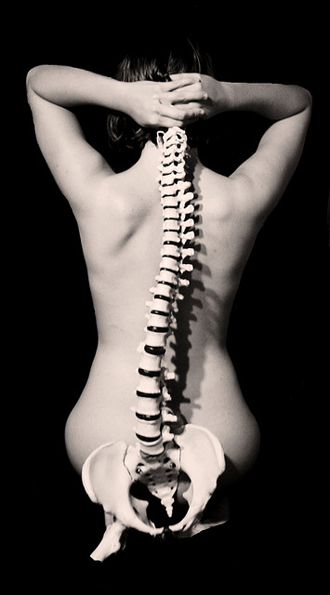 I've been seeing a chiropractor for several weeks to ease acute lower back and neck pain aggravated by years of "managing" a deteriorating spinal condition.
"Managing" is my way of saying I've been coping with the pain on my own, thank you very much. Over the years, I've tried medications, bone-cracking chiropractic, physical therapy, injections and the list goes on, all with varying degrees of success. I've never considered a long-term, slow-action plan because, well, I'm an instant fix, fast-action kind of gal.
Until now.
In my opinion, my chiropractor is a holistic doctor; she doesn't just adjust me, she listens – and even asks questions of my body – and works on me according to the answers she receives. She's also an intuitive healer. She can often simply lay her hands on me and know if my internal body parts are misfiring – once she said my spleen was inflamed and then worked to relieve it!
I love what my doc is doing for me – even if it is at least a six-month, intensive project.
Emotional Realignment
Too bad she can't adjust the emotional side of me and correct my mental misalignments while she works on correcting my spine.
I wish she could wave a magic wand over me and suddenly, poof!, my body and emotions would transform into a beautiful homeostatic tower of balance.
Or maybe she could at least hook me up with someone who could work in tandem with her efforts.
Does such a person even exist?
Oh yes . . . that person is ME!

Huh?
That's right. If you take the first two letters of the word Emotion and reverse them, what do you have? Me! Not only am I exhibiting emotions all the time, but I have primary responsibility for taking care of them.
OMG, you're probably saying to yourself, my back hurts, I'm late for work, I have no transportation because my car was destroyed in the last hail storm, and now you're telling me I have to fix my emotions too?
Good News/Bad News
The bad news is, yes, that is what I'm telling you. But the good news is, once you practice dealing with your emotions, you'll stop being a victim to all that outside stuff happening "to" you and realize that the stuff is simply happening.
Here's my six-step process for bringing your emotions into balance.
Own the emotion. Stop blaming others. How you feel about situations, people or circumstances is no one's fault.
Accept that the emotion is a feeling and that feelings are not facts. You've heard the term "emotional roller coaster?" When we're not in charge of our feelings, they have a way of building speed and momentum until they reach a pinnacle and then plunge scarily downward.
Understand that emotions can be changed. I am the only person responsible for changing my emotions and feelings. Staying in victimhood is not only unhealthy, it is also unbearable!
Choose to change. Sometimes the simple act of drawing a column down a piece of paper and writing "what's not working" on one side and "what is working" on the other is enough to help us see that we really need to do something about our emotional condition.
Make the change and don't look back. Take a deep breath and make the plunge. Remember that the you prior to making the change is now a part of history!
Celebrate! Woo Hoo! You are an awesome and incredibly courageous person to take a stand and say that you're sick and tired of being sick and tired!
Getting Out of Misalignment
A good chiropractor – like mine – detects, corrects and then prevents the recurrence of what practitioners call spinal subluxations. A subluxation is a misalignment – often caused by physical injury or chemical or emotional stresses – that causes a loss of movement in the spinal column.
This misalignment, or imbalance, affects everything in the body because it involves nerves and the cellular system.
Similarly, when I have a mental subluxation – often caused by physical injury or chemical or emotional stresses – I have a loss of healthy movement in my emotional column.
Emotional imbalance can also affect everything in my world.
When I had my first evaluation and consultation with my chiropractor, following x-rays and tests, she told me that now that we know what is wrong, we can work to fix the condition.
Recognizing emotional disturbances is important because once we know something is wrong, we can work to fix it.
Tools to Improve
Just as my chiropractor has tools at her disposal to work on my spinal condition, so too do I have tools to work on my emotional conditions.
Here is a sample of tools that work for me.
Deep breathing. I'm constantly amazed at how often I hold my breath, as if that is helpful!
Prayer and meditation. I ask for help and then listen for answers.
Enlist a support group. More than anything, this tool is about asking others to hold me accountable.
Reaching out to others. How often do I call someone and ask how

they

are doing?
Journaling. This is my stand-by practice; often when I write something out, the answer magically appears on the page in front of me.
Practice H.A.L.T. I evaluate whether I am too Hungry, Angry, Lonely or Tired and if I am, know that my chances of practicing good emotional care are severely diminished.
Say no to drama. This is a new tool for me and a tough one! My limited experience shows me that if I stay out of the middle of drama, my emotional condition is more likely to stay fairly balanced.
Finally: MIND MY OWN BUSINESS! Need I say more?
There are many other tools that help keep our emotional column in balance; I've shared with you the ones that work for me. Please share others here and let us know what works for you.
The goal is to respect our emotional well-being as we honor our physical self-care. Relieving both of their respective subluxations creates a balanced synergy that makes us mighty forces.
The bottom line is this: We can have physical and emotional balance, but it will require work on our part. I promise you that the rewards are phenomenal!
Smart Thoughts (18)