Posted in Balanced Lifestyle, Balanced Mind and Soul | November 27, 2011 | 15 Comments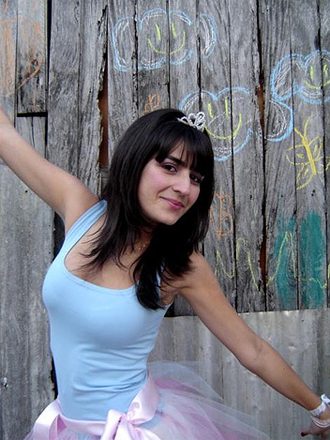 What would a life be without a dream? – A very boring existence, that's what.
We all have dreams that help us move from one point in life to the other one.
In winter we dream about warm summer days and a well-deserved vacation.
While growing up we dream about who we want to be, how many kids we want to have, sometimes even who we want to marry.
Once we establish our families we start dreaming about seeing our kids grow up.
After long years of work we dream about retirement and the wonderful peaceful place that we will move to.
Our dreams keep us going in life, get us through tough periods and give us hope and goals to work for.
"How, in the world, can they ruin my happiness?" – you are asking me then.
I knew a guy once who had trouble finding a girlfriend. He was smart, attentive, kind and a wonderful person all over. He just had a dream of finding a girl who was way taller than he was. Of course, by setting his expectations so "high" he created a dream that was practically unrealistic to obtain. He is forty now and he still hasn't found his dream girl.
Another girl that I knew had a dream of building an amazing career and starting a family at the same time. Obviously her dreams were conflicting all the time making her feel miserable instead of relishing the joys of motherhood or finally making that coveted step up the career ladder.
You are probably thinking, "This is nothing that I should worry about." Please allow me to disagree.
Dreams are powerful motivators in life but they can trick you into losing your happiness. Here is how:
1. You dream without ever doing
A dream is pretty much your ideal life vision. If all you do is dream about the future but never focus on the steps that it takes to make that vision a reality then you cut out all the chances of ever reaching that dream. Recent research found out that images that your mind creates when you dream about your future are enough for your brain to consider this dream a reality and release hormones that make you feel relaxed and accomplished. While this function is excellent when you are trying to release daily stress it is absolutely useless in motivating you to bring your dream into reality.
How to make your dream come true: Try to visualize your dream with as many details as possible. Now think about all the necessary steps to materialize your dream. Create several scenarios depending on what hurdles can get in your way. Think of possible obstacles and how you can overcome them. Now you can keep dreaming but also start taking steps towards your dream.
2. You use dreams to cover up your fears or insecurities
Did you ever hear a person say "If I were younger, I would have…" "If I didn't have the responsibilities of … I would have …" "If I didn't have to work, I would …"
Dreams like these create a bulletproof excuse to never reach them or achieve happiness in life. Instead of focusing on what you have achieved in life and how you can use this knowledge to fulfill your dreams you focus on all the reasons why you can't reach your ideal future.
You are covering up your fear of rejection and failure that ruin your dream forever. This is negative thinking at its best.
How to make your dream come true: take a look at your dreams and see if you are covering them up with any excuses or if you subconsciously create dreams that are impossible to reach.
Try to find out if there is some fear hiding behind that dream. The only way to address that fear is straight on.
For any excuse that keeps you from reaching your dream find 5 counter-arguments why you can bring your dream to reality. Now go back to the previous paragraph and create your practical plan for your happy future.
If after everything you do you still fail to reach your dream then at least you have cleared room for another dream. Keep reading to learn why it's good to change your dreams.
3. You don't let your dreams grow with you
Can you imagine if all of us stuck to the dreams that we had when we were 6-7 years old? Who did you want to be back then?
I wanted to be a teacher at school because I thought that grading papers with red ink was the best thing in the world. I used to make my dolls "write" in the notebooks and then I would find all their mistakes and with huge satisfaction give them a "D" and call their parents for a meeting. I would hate to be the student of such a mean teacher! I'm so happy that my dream changed when I grew up.
However, a lot of dreams that we get as adults also have to change when we transition in life.
If in college you dream about a huge career advancement it doesn't mean that you have to stick to this goal when you start a family.
And you don't have to stick to the dream of retiring in a place that you visited for your honeymoon just because you have such wonderful memories associated with it (you know, that place probably has changed in the past 40 years.)
How to make your dream come true: let your dreams grow and change with you. There is nothing wrong with moving on to the next dream if you feel that you've outgrown your present one. As you get wiser with age your dreams also improve, expand and become more direct.
4. You limit your dreams
For some reason a lot of people limit how big they can dream and how many dreams they can have. Of course, this is not the worst thing in the world as you can stay completely focused on your dream and actually make it your reality. However, what happens when you reach that dream? All of a sudden you start feeling very empty, lonely and lost like a blind kitten.
How to make your dream come true: There is no limit to how many or how big your dreams can be. Just make sure that whenever one dream is accomplished you have another one to keep you going.
5. You are afraid to let your dream go
Some dreams are not meant to happen. A lot of times something much greater than you could ever dream about happens in your life. It's important to savor those moments of complete happiness and accomplishment. It's okay to let your dream go and refocus on the present.
Other dreams just become obsolete and irrelevant over time. Let them pass away and don't get upset about not fulfilling your dream. Move on to the next one.
How to make your dream come true: just let it go. Focus on another dream that is meant for you.
6. You choose the wrong time to fulfill your dream
Timing is everything. Most of our dreams are long-term goals that don't have a deadline.
Ever since I got interested in Pilates I wanted to have my own Pilates studio. I thought "I need to have it running by the time I am 30. Then I can focus on starting a family and everything else." Of course back then I had no idea that I will be blessed with twins at the age of 23 and will be living in a different country.
Today I am happy raising my girls and teaching only several hours a week. One day when the girls get older I might "renew" my dream of having a Pilates studio but right now I am not interested in running a business. I am completely happy where I am in life.
How to make your dream come true: If you feel that no matter what you do you run in yet another dead end then you might need to take a different road right now. Your dream might have to wait for the opportune moment. What is going on in your life right now that is important and meaningful? Maybe you are living a dream that you couldn't even imagine. You just haven't realized how blessed you are to be at this point in life. Promise yourself to get back to your dream in a year or two. If it's meant to be then your persistence will pay off.
Dreams are powerful. Life loses all its colors when we stop dreaming but it's so important to keep your dreams in balance with who you are right now.
Today I dream about moving to a Caribbean island.

I dream about making Balance In Me the ultimate life balance portal that will help people from different roads of life to find their balance.

I dream about running virtual Pilates workshops and retreats.

I dream about seeing my girls grow up and choose their path in life.

And every day I make a step towards making these dreams come true while enjoying the blessings that I already have in life.
What are your dreams? How do you make them come true?
Keep it balanced!
Photo credit: Gabriela Camerotti
Smart Thoughts (14)