Posted in Book Reviews/Interviews | April 23, 2012 | 7 Comments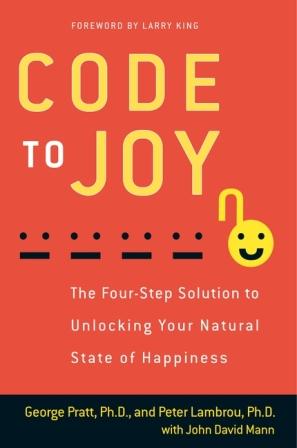 Important Note: This giveaway is over. Please subscribe to the newsletter to make sure that you don't miss the next one.
Do you sometimes feel that certain events from your past just can't disappear from your memory? No matter how much you try you just can't shake them off and move on in life?
Sometimes it can be something very important like divorce of parents or a childhood trauma but in other cases a small event (that seems almost irrelevant when you think about it logically) keeps nagging you for many years, stealing your joy and ability to be happy.
That's what doctors George Pratt and Peter Lambrou call the "distress fog" in their new book Code to Joy: the four step solution to unlocking your natural state of happiness. I got this book for review a couple of weeks ago and immediately got interested in it.
Code to Joy focuses on dealing with past experiences or limiting beliefs that can keep you from being happy. Doctor Pratt focuses on the most common limiting beliefs that most of us experiences in one form or another:
I am not safe.
I am worthless.
I am powerless.
I am not lovable.
I cannot trust anyone.
I am bad.
I am alone.
All it takes is one small event or one tiny remark at the "right" time to create a deep trauma that will haunt you your entire life. Unless you unlock the event that caused this "fog of distress" and learn to deal with it you will never be able to find your happiness or balance. At least that's what doctors Pratt and Lambrou are saying and it makes perfect sense to me.
The book itself is full of success stories and clinical examples from the practice of the authors. These real life examples make the book compelling and actually interesting to read no matter whether you have any issues to deal with or not.
Of course it gets only better when the doctors start talking about the practical techniques of dealing with these past experiences (that emotional baggage that most of us have and just can't find a proper way to let go of.) The book describes several neuromuscular techniques that will help you tap into your subconscious mind and unlock any experiences that you might not be aware of. The idea behind it is very simple: your body has an unerringly accurate self-knowledge.
As a Mind & Body practitioner I know how deep our mind and body are connected. Once you start teaching your body a mindful movement pattern you open a whole new approach to life – the lifestyle of inner and outer balance. And that's exactly what Code to Joy will teach you to do.
There was one short chapter in the book that made me a believer in the method. Here is a quote:
This is why popular approaches to self-improvement, such as positive thinking and affirmations, are so rarely as effective as their adherents hope they will be.
I wrote about the myth of positive thinking before and I believe that it is hyped out of proportion these days and many people actually lose their balance because they spend too much energy on maintaining artificial positivity instead of living a full life.
If you've tried positive thinking before and didn't see any improvement (like most people) then Code to Joy might give you the answers you were looking for.
I would like to share one simple exercise from the book – crosshand breathing. It is used to clear and relax your mind in just two minutes (we all deserve a little break.)
In a seated position cross your left ankle over your right one.
Place your left hand across your chest, so that the fingers rest over the right side of your collarbone. Then cross your right hand over your left, so that the fingers of your right hand rest over the left side of your collarbone.
Breathe in through your nose and out through your mouth. As you breathe in, let your tongue touch the roof of your mouth, just behind your front teeth. As you breathe out, let your tongue rest behind your lower front teeth.
To win a free copy of Code to Joy: the four step solution to unlocking your natural state of happiness:
Leave a comment on this post (you must be a subscriber to win – it's free to join the Life Balance Club, just click here)
Tweet or share this post on Facebook.
This giveaway is over. Please subscribe below to get timely deals and updates.
Keep it balanced!
Smart Thoughts (7)