Posted in Balanced Lifestyle | April 15, 2012 | 35 Comments
April 15th is known in the US as Tax Day which sends shivers down everyone's backs every year (this year it's April 17th of course).
Those who are planning to watch Titanic 3D or are just huge history fans might know that April 15th is the day the Titanic actually slipped under the water forever.
For Orthodox Christians (the religion I grew up in) April 15th this year is Easter Sunday.
My grandmother knows and loves this date because it's the birthday of her favorite Russian singer (okay, maybe there is one more reason why she loves this date :-))
April 15th is my Birthday. Yaaay! And I am going to celebrate it! This year I am turning 27 and I am not afraid to say it. Mostly, because I am still young enough not to have to hide my real age… Secondly, because I really don't feel like 27 yet (more like 24)… And, finally, I just love to celebrate my birthday – it brings out the inner child in me at least for this one day.
So, if you would like to have a cake today – I think it would be a great idea! I even want to share my favorite recipe with you. It's the most delicious moist and heavenly luscious dark chocolate cake you have ever tried. And, what's even more important, it's easy to make (I am a horrible baker so if I can make it – anyone else can make it too.)
But before we get to the sweet stuff I thought I'd give you something else to enjoy.
For three days only (that's how long I'll be celebrating my birthday this year) you can buy my ecourse Reclaim Your Life at a discounted price. Actually you will decide what the course is worth to you. The minimum price of the course is $22 (it's a 40% discount from the original price) and you can go up from there. Think of it as a mutually beneficial gift: you are getting an awesome product that will help you rebalance your life.
I also prepared a special bonus for everyone who buys the ecourse April 15th through April 17th – the Bonus Life Balance Workbook. It contains 4 additional exercises (never mentioned before) that will help you discover your personal road towards life balance and create action steps that will get you to your destination.
How to get the Reclaim Your Life course at "pay-what-you-can" price
If you are seeing this page then the Birthday Sale is over. I am sorry that you missed it. Make sure to subscribe to the newsletter to receive all important updates and news right to your inbox.
You can still purchase the Reclaim Your Life course – click here and read how awesome it is.
4 Reasons why Reclaim Your Life is worth your attention:
The Reclaim Your Life course has already helped dozens of people build a stress-free balanced lifestyle while actually enjoying their life.
"I can't believe you charge so little for the course. It has helped me transform my life, it's worth way more than $37.95!"
This course has been selling well for the past 6 months and if you were looking for a perfect time to buy it then now might be just the right time.
Some of the comments of the Reclaim Your Life participants before they started the course
"I am constantly behind on everything; I can never catch up with my life!"
"I am running like a hamster on a hamster wheel 24/7. Can you help me?"
"I have no idea how to find time for all my projects without sacrificing important parts of my life."
"I know what needs to be done (sometimes) but I keep procrastinating and can't find motivation to make the right changes in my life."
Comments after they completed the course:
"I finally have time to breathe and enjoy my life. It's wonderful!"
"Thank you so much for showing me how to balance my life with ease. Now I finally feel in control of my life."
"Thanks to your exercises I finally found time for my family – the most important people in my life – and found time for myself."
"Now I know how to beat procrastination before it starts taking over my life."
Now let's get to the sweet stuff. Yuuumm!!!
Best Ever Extra Dark Chocolate Cake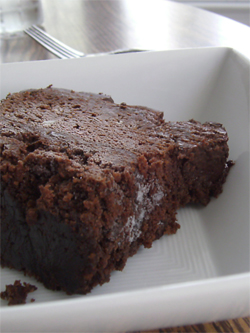 Ingredients
2 cups white sugar
2 cups all-purpose flour
½ cup butter
½ cup vegetable oil
1 cup water
¾ cup unsweetened cocoa powder
1 teaspoon baking soda
½ cup fat-free buttermilk (or kefir)
2 eggs
1 teaspoon salt
1 teaspoon vanilla extract
Frosting:
¾ cup butter
2 cups confectioner's sugar
1/3 cup milk
4 oz unsweetened chocolate baking bar (you can skip it but it really makes the frosting stand out for the ultimate dark chocolate experience)
3 tbs unsweetened cocoa powder
2 tsp vanilla extract
Directions:
Grease two round 8 inch cake pans (or use parchment paper). Preheat oven to 375 F (190 C.)
Combine 2 cups white sugar and 2 cups flour together; set aside.
In a saucepan combine ½ cup butter, oil, water and coca. Bring mixture to a boil, remove from heat and add to try ingredients.
In a different bowl dissolve baking soda in buttermilk, add beaten eggs, salt and vanilla.
Add the buttermilk mixture to the flour mixture; stir well.
Pour batter into two 8" round cake pans. Bake at 375 F or 25 minutes or until a toothpick comes out clean.
Frosting:
Melt chocolate in a double boiler or microwave on high for 1 minute (add more time if needed.)
In a big mixing bowl beat butter until fluffy.
Gradually add sugar, cacao, milk and vanilla extract.
Finally add melted chocolate and mix until well combined.
Let the cake cool a little bit before taking it out of the pan. If the cake starts falling part –don't worry. Just press it together and use frosting to "glue" it together. The cake will taste only better.
First frost the bottom layer. If you want, you can sprinkle crushed pecans, walnuts or chocolate chips before you put the second layer. Then frost the second layer and decorate it to your liking (I usually use shaved dark chocolate for decoration.)
The cake is ready! Enjoy!
Tip: Is the whole cake too much for you and your family? Cut it into serving-size pieces, put it on the baking tray and set it in the freezer. Once the frozen had hardened wrap each piece into serene wrap and aluminum foil and keep it in the freezer until you crave a decadent desert. Once frozen, it tastes just like chocolate ice-cream cake – delicious!
And of course you can leave a comment just to wish me Happy Birthday. It would most certainly make my day
Keep it balanced!
Smart Thoughts (35)