Posted in Balanced Lifestyle, Balanced Mind and Soul | September 25, 2012 | 19 Comments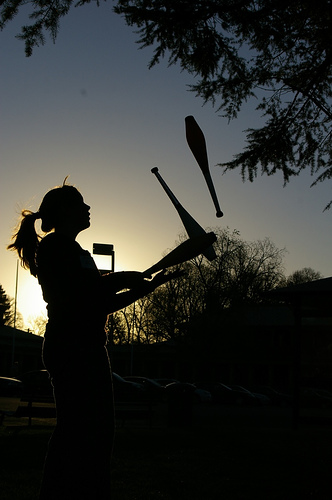 In theory, I imagine a balanced life to feel like white lotus pedals effortlessly flowing across a bed of warm water. In reality, balancing my life has been more like basic training in master juggling. With two teenagers, a husband, a dog, a healing practice and now a book, the only thing effortlessly flowing is the grey hair across my face.
And I'm grateful for every moment. Because stretching to care for who and what I love is how I develop balance. Conversely, the more balance I develop, the better I get at stretching to care for who and what I love. In this way, developing balance is a daily practice. Stretching is not always comfortable but it's an opportunity to learn how to relax into the edges of my limitations so I can grow.
Balance is a relationship
Do you approach life with a scrunched-up-stressed-out attitude? Or do you remember your sense of humor while you're chauffeuring your kids back and forth (and back and forth) between sports' practices, social visits and school activities? Balance begins as a relationship you cultivate within yourself.
At the same time, balance is also something you express in the world. Notice the difference between cursing at slow cars as you chauffer your children versus singing along with your kids' favorite music (even though it's horrible). I don't want you to feel bad if you tend to curse. We've all had those moments, believe me. The point isn't to beat yourself up for being human, but instead, to learn to find balance through all parts of life.
A different way to hold healing
My role as a healing practitioner is to support people in learning how to navigate life. And while I want only the best for my clients, I've found that we can't always control our reality. Life can throw curveballs, and actually, relying on control ends up limiting potential. I want my clients to feel strong, capable and balanced in the face of any life circumstance.
After years of traveling alongside clients as they explore daily unknowns like birth, divorce, anxiety, health, new love, and new dreams, universal themes have coalesced into eight teachers. Growing a relationship with these eight teachers can help you develop balance within daily life.
8 Teachers for Balance
Fear: Trying to avoid fear by sweeping it under the carpet creates an additional stumbling block. Instead, invite fear out of the shadows for tea and conversation. As you learn to listen, instead of reacting you can begin responding to your fears with compassionate suggestions. Fear then simmers down to create more peace inside.
Awareness: Identifying fear leads to cultivating awareness. Shining a light of awareness within yourself naturally reflects onto daily life relationships, decisions, and projects. As you shift between noticing inner and outer worlds, you learn how to hold and balance more in life.
Choice: Developing awareness may reveal choice points about limiting beliefs, habits and relationships. As new choices impact your internal and external worlds, rebalancing your life can feel like an uncomfortable stretch. But if you can stay with it, relaxing into the stretch also ignites potential.
Body: Often, our bodies talk through issues surrounding health, sexuality, fertility, nutrition, body image and more. As the literal place of life and death, body is a doorway for ultimate transformation. A talking body teaches us to discover new balance in all ways from changing how we eat, exercise, feel and live.
Intuition: Accessing intuition involves learning how to sort through internal and external static to develop trust. In this way, intuition can become an internal compass for making decisions amidst life's unknowns. Following intuition can help you practice balance and express wisdom in your daily life.
Energy: There's a way to follow the energy of something instead of getting in front of it. You can follow a relationship, decision, project, hope or an intention. Often it takes realizing you've jumped ahead, usually because of a fear, to pull yourself back. Following, catching yourself, pulling back and starting over is practicing balance.
Intention: Following an intention is like having a conversation with your soul about what really matters to you. For example, you may focus on developing a quality like strength or something tangible like motherhood. The question becomes, how will you fuel your intention by taking action? Holding a heartfelt intention in the present moment without any future guarantee turns developing balance into an art form.
Surrender: The heart of surrender involves letting go of something–a relationship, belief, job, or dream–as well as the hopes and expectations it carried. But practicing surrender also means moving aside to allow something bigger to guide you. The dance between letting go and allowing means embodying balance in a whole new way.
Your own sense of balance
Ultimately, while these eight teachers offer foundational support, there isn't one right way to develop balance. It's up to you to discover your own sense of balance within and throughout your life. In the meantime, what you can count on is that actively juggling work, family, finances, health and relationships will help you practice holding it all.
Win a Free Book
Do you want to know how to turn your life around and start thriving no matter what? You can win a free copy of Staci Boden's new book Turning Dead Ends into Doorways: How to Grow Through Whatever Life Throws Your Way by
leaving a comment below and telling what areas of your life need the most juggling right now and
sharing this article with your friends on facebook or twitter.
Please note: you must live in the US to win the copy of the book.
Let us help you bring more balance into your life!
Smart Thoughts (18)