Posted in Balanced Lifestyle, Book Reviews/Interviews | August 6, 2013 | 4 Comments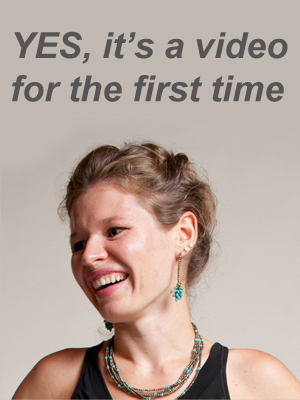 What is holding you back from living your passion?
About 7 years ago I was working in a web development company. The hours were good, the salary was decent and even my colleagues were fun (Who knew back then that one of my colleagues will end up being my loving husband and the father of two sets of identical twins?)
I was lucky to get that job while I was still working on my Master's degree. I couldn't find a single flaw with the situation I was in.
However, just in a year I realized that I was sick and tired of that job.
I didn't feel motivated.
I didn't see the future of going anywhere.
I didn't find joy in what I was doing.
Each day I felt that I was wasting yet another day of my life.
At the same time I was teaching fitness classes 3 times a week after work. Every day after work I was exhausted but then when the time came for my class I felt that incredible rush of energy that carried me on the wings of excitement to the gym. I felt like a new person the minute I put on my exercise clothes and stepped into the gym.
That's when I felt the true power of life passion.
I could teach 4-6 hours of fitness classes in a row and actually draw energy from what I was doing – helping people get healthier and feel better in their bodies.
Today I still stay true to my life passion though I've found more ways to grow it. I teach virtual Pilates classes, write about healthy living and work with several clients one-on-one. It's the passion that not only feels good but also pays the bills (and trust me, there are a lo of them if you have 4 kids!)
Starting to live your passion can be scary especially if you have other responsibilities in life. And sometimes the best way to make that step is to find a person who can guide you and help you avoid most common pitfalls and obstacles.
Today I am talking (YES, for the first time a Video interview!) with Barrie Davenport (the best life passion coach that I know) about

The first steps towards life passion.
What keeps people from finding or even attempting to find life passion.
How a REAL life coach (not a "voodoo" one) can help you transform your life.
3 actions that you can today to experience the rejuvenating effect of life passion.
After watching the video you can also win a free copy of the 52-Week Life Passion Project by Barrie Davenport.
3 Steps to Start Living Your Life with Passion
If you feel that you need an understanding and committed person by your side to help you start living your life with passion then take a look at Barrie's Path to Passion course. Hands down, it's the best program of its kind!
The registration opens on August 12th but you can save $70 if you get on the waiting list today. You have nothing to lose as you will get valuable tips from Barrie before the course starts.
One of the things that keep people from living their passion is trying to find time for that passion in their lives. It's easy to devote yourself to your dream if you don't have bills to pays, kids to take care of or responsibilities to attend to. But everything changes when your life is already full and you feel that any extra drop will simply tip you over.
Smart Thoughts (4)