Posted in Balanced Lifestyle, Balanced Mind and Soul | November 28, 2011 | 19 Comments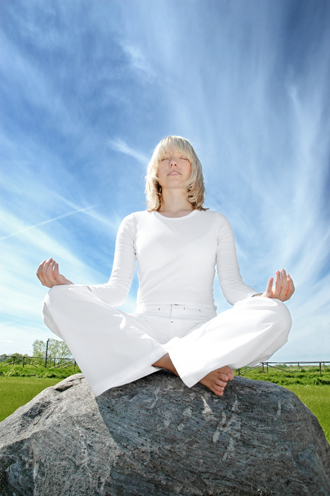 How do you balance your life? Where do you start?
The most difficult step of any task or project is the first one. You look at the big picture and maybe you even know what you want to get in the end but you have no idea where to start.
It is especially true for life balance. I've been there. If you are feeling exhausted after work, you can't stick to a healthy lifestyle and you constantly feel guilty because you don't spend enough time with your loved ones, what is the first step towards that balance? All changes seem overwhelming and you just can't take on anything else because you simply don't have time or energy for it.
When I first started simplifying and balancing my life I wished I had a little step-by-step guide to life balance. Today (about 5 years later) I feel that my life is in balance and I have decided to create a step-by-step life balance guide for YOU. I have put together the most useful and practical tips that you can do TODAY to get one step closer to your inner harmony and peace.
(BTW, keep reading to see how you can download my new FREE ebook and win a copy of the Reclaim Your Life in 15 Days ecourse.)
Listen and be aware.
You have conversations all day long, but how often do you really hear what's being said? Most of the time your mind is wandering – to a work project, plans for dinner, for example – or you are crafting your next response. But the key to having a productive talk as well as a balanced relationship is speaking less and listening more.Today when you are talking to your family members or friends see how long you can go without letting your thoughts roam. You'll have a better idea of what this person is saying and how you can use this information to keep your relationship more balanced. Besides, by listening attentively you'll show your loved ones that you appreciate them and will make them more eager to hear what you are saying.
Laugh and smile together.
According to a recent research published by CNN people who smile a lot have lower rates of divorce. If you are married or if you are in a serious relationship then smiling and having fun together is a bullet-proof method to keep your fire burning. Researchers are not quite sure about the connection between smiling and happy marriages but having great time together and laughing a lot will help you become more positive about your relationship and life in general.Today watch a comedy together and try to smile at your partner and your family members more than usual. I can guarantee that you will have a more positive and balanced day.
Question yourself.
How often do we find something sitting on a shelf or get ready to throw something in the trash that only 6 months ago we just had to have?Today before you buy anything at all in your life, ask yourself one very important question: "Where will this item or thing be one year from now?" If you are not 100% sure that you will be using the item or if the probability is high that it will be in a yard sale or in the trash a year from now then do not buy it. You will be amazed at how much money you will save by asking yourself this one simple question.
Make this Christmas the one to remember. Really?
How many times have we heard that from commercials and advertisements that we see during the Christmas season? The idea is that we should all go out and spend a ton on money trying to make this particular day of the year a "one to remember". Now ask yourself, what did you get for Christmas 3 years ago? How about 2 years or ago or even last year? Chances are that you might remember a few things from last year but beyond that is very difficult.Today keep Christmas gifts (as well as other gifts) simple and don't spend a ton of money trying to please others. If someone is not happy that you didn't take out a second mortgage on your home to give them the gift of their dream for Christmas then they are probably not the type of individual that you need to be around to begin with.
Try "reverse" time management.
Every day you probably focus on accomplishing certain tasks that you planned. At the beginning of the day you look or think about everything that has to be done and your brain almost freezes in silent panic. All day long you try to catch up on everything but something constantly interrupts you, you lose your focus and at the end of the day your list of tasks looks only longer.Today focus on how much time you can spend working. Plan 1-2 hour work blocks when you are 100% focused and nothing can get in your way. Work as a mad man or woman during those blocks but then let yourself rest. At the end of the day focus on how many productive work blocks you have had instead of how many tasks you have marked off your to do list.

This little change in your thoughts will help you avoid procrastination, prevent "brain freeze" and let you have some time for the unexpected things that will come up during the day.

Protect your "non-work" time.
Your free time is an asset that you should protect at all costs. When we think about work we usually have certain hours that we have to spend working. We do not even think about other activities at that time.
For some reason when it comes to free time we forget how important it is. Yes, it won't bring you any extra income and won't get you a promotion at work but it will make you a happy and balanced person.Today turn off your cell phone after work. If you work from home then it is vitally important to have a designated office area that you should not enter during your "off" hours. When talking to your family members and friends spend a little bit of time sharing your work issues and then refocus to a more pleasurable topic.
I'll probably sound like an elementary school teacher, but still remember "All work and no play makes Johnny a dull (and unhappy!) boy."
Nurture emotionally intimate relationships.
Keeping up with a thousand friends on Facebook won't make you any happier (if anything, it can make you only more depressed.) Create deep relationships with a few friends, family members or your spouse to increase your happiness level. We all need a few confidants who hear us on a deeper level, allow us to share experiences and become involved in our lives.Today (and every day) spend some time with a close person. Talk to your partner and spend time with him/her. Call your friend or a close family member. Plan monthly events with your close friends.
Express your gratitude.
Does it feel good to hear somebody thank you for something? Be the person who always thanks for the favors that you get and help. Also be the one who appreciates his/her friends instead of taking them for granted.Today find a way to tell your friends why you value them so much.
Accomplish something that has value to you.
True happiness stems from achieving something meaningful to you. It can be anything like painting, raising kids, helping others, growing a house, writing a blog or organizing your house. It doesn't matter how spectacular or how famous it makes you – what you do just has to be intrinsically motivated. Ignoring what matters to you sets you up for unhappiness now and regret later in life.Today figure out what is meaningful to you in life and devote at least 15 minutes to your meaningful activity. Make sure that you do your meaningful work every day no matter how busy or tired you are.
Let yourself relax.
Being in the "always-ready" condition is very stressful. Let somebody else take care of the kids, order a take-out (not more than twice a month, though), take a day off at work (if possible) and let yourself completely relax. It's as important to let yourself relax all the way as it is to be insanely productive.Today add some R&R into your day. It's best to have one day of total rest (no errands, no tasks) but even 15-30 minutes of quietude and serenity daily are a welcome change for the better.
"Okay, I see only 10 tips, where is the other 90?" you are asking me right now.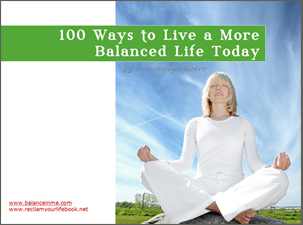 Posting them in one article would be overwhelming (to say the least.) You can download the 100 Ways to Live a More Balanced Life Today for FREE here. (if you are subscribed to my newsletter then I have already send you the download link for this FREE ebook.)
I would love to know how you keep (or would like to keep) your life balanced. Please share your thoughts in the comments.
You can win a free copy of my ecourse Reclaim Your Life in 15 days by posting your comment below. On Dec 5th I will pick the winner with the best comment.
The winner of the free Reclaim Your Life ecourse is Jody Stage (comment #6.)
I want to thank everyone who took part in this discussion and shared their ways of staying balanced and happy. I appreciate your involvement and your voice.
Keep it balanced!
Smart Thoughts (19)