Posted in Balanced Lifestyle | March 8, 2012 | 20 Comments
Tweet
By Anastasiya Goers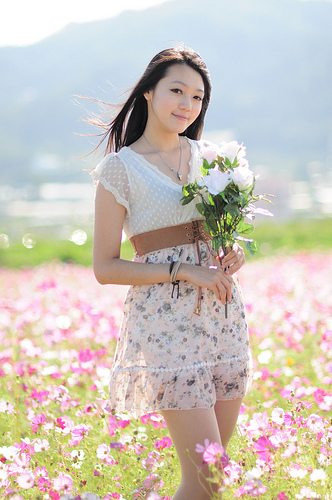 Happy Women's Day!
Women are as different as the flowers in a meadow.
They come in all different shapes and sizes,
with different dreams and limitless ambitions.
They are quirky and brave,
timid and bold,
sexy and serious,
strict and fun-loving.
But they have one thing in common –
they are bright as the first star in the sky,
beautiful as the first flower in a spring meadow,
warm as the first ray of sun after the rain,
mysterious as the most precious treasure
and more fabulous than anything else in this world.
Thank you for being who you are!
Today I want to greet and congratulate every woman who reads this blog. As a special "Thank You" and a tribute to the power of enormous creativity of ladies all over the world I have put together a list of the posts (written only by female authors) that will answer your biggest life balance questions, give you motivation and inspire to live a balanced life every day.
(Of course I am not saying that men are less talented than women are and I guess soon I'll have to put together a post of 44 Most Inspiring Life Balance Posts written by Men to avoid any gender discrimination on this blog, but today let's focus on women. Because every once in a while every woman needs to know how Awesome she is!)
For Women by Women
Choose Your Path
On Being Yourself
Get through tough times
Everyday Motivation
Work
Money
Living to the Fullest
Marriage/Relationships


For Women by Women












































7 Simple Ways to Boost Your Mood, Right Now by Ali Luke for Pick the Brain
We all feel a bit down at times. Perhaps you've had a stressful day at work, or you're juggling a lot of different tasks at home. Maybe your plans haven't gone as smoothly as you'd hoped, or you're struggling to find your path in a complex world.
When you're feeling low, it's easy to let your mood get on top of you: by snapping at your partner or kids, or procrastinating on your work, or even turning to drugs or alcohol. There are plenty of simple ways to boost your mood, though – so next time you feel bad, try one of these.
Ode to Joy (or how to take better care of yourself) by Sandi Amorim, Deva Coaching
I know I don't always take the best care of myself, distracted by business, commitments to others and yes, I admit it – sometimes laziness.
What? A life coach admitting to laziness? Not too common I know, but hey I'm human and I've got my challenges just like you do!




Finding Sanity through Awareness and Action by Robin Easton, Naked in Eden
I've sometimes felt overwhelmed by the changes that need to occur on a global scale to ensure a healthy future for our children, and for all beings. At times, when I first came out of the Australian rainforest I felt hopeless and helpless. I didn't know where to start. But rather than focus on feeling overwhelmed or what I couldn't control, I decided to focus on what I can do to bring about positive change in my own life and in the world. There are many things we can do in our lives to feel more positive and sane about both the present and the future.




Are You The Master Of Your Day Or Are You Too Busy To Notice? by Natalie Sisson, The Suitcase Entrepreneur
After continually working for hours on end, in the early morning, late at night and on one too many weekends, I realized the error in my ways. As much as I like to think I'm organized, productive, creative and focused, I have not been managing the processes in my life.
I was making more but not working less. I was flying through my day, managing minor issues as they came up and reacting to everything as quickly as I could, instead of getting perspective and prioritizing what was important and what wasn't.





Let's Talk Money by Tsh Oxenreider, Simple Mom
Almost two years ago, I first shared some newly-found emotional benefits to being debt-free. We just sent in our last payment to finish off my school loans from college, and were emotionally high from the eurphoria of not owing a thing to anyone.
Two years later, and we're still shaking in our boots in gratitude for being debt-free.
10 Ways You Can Have Enough Money and Stuff by Courtney Carver, Be More with Less
As a society, we are eating too much, drinking too much, working too much and spending too much. We take more drugs for anxiety and depression than ever before. Our debt is climbing and our savings are dwindling.
It's time to start asking the tough questions, because it's very likely that you are not living the life you desire. You are depriving yourself of real happiness because you think you need more. More money, and more stuff.


25 Tips To Make Your Marriage Rock! by Preeti Bhatt, Happy Heart and Mind
Zenguy and I are friends first and seemed to be married for zillion years or so. While we have mutual love and care for each other, we still need to work on our marriage and relationship often time. Here are a few ways, you can do that with your spouse. While this tips are for happier marriage, it can be applied to other relationships as well as such boyfriend or girl friend, a friend, parent, siblings etc.




The Two Sneakiest Marriage Problems To Watch Out For by Amy Waterman, Save My Marriage Today
Among the many couples who've consulted with us, we've come across two common problems that they fight about the most. To the passing eye, these everyday problems aren't threatening – but any couple should know better than to ignore them.
How would you like to greet women today?
If you know any inspiring female bloggers that I didn't mention above please mention them in the comments below (don't be shy, you can mention yourself too :-)). Or tell us what women inspire you to live a balanced and fulfilling life.
Keep it balanced!
Tweet
Smart Thoughts (18)