About Balance In Me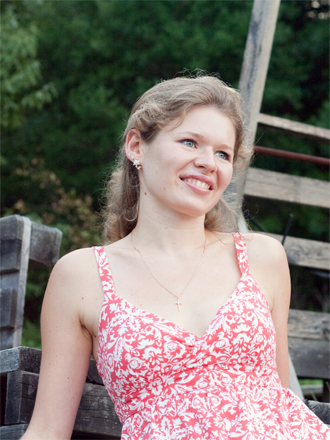 Hello,
my name is Anastasiya Goers and I am the creator of BalanceInMe. For over 7 years I've been pursuing the balanced lifestyle and sharing my journey here on balanceInMe. 2015 was the year when I had to take a new direction in life. This new direction is exciting and invigorating for me and it is a natural step on my personal life balance journey. I had to step down from being the author of BalanceInMe and give it into the inspired hands of a new owner.
I hope that you will continue learning from the experience that I have shared on the pages of BalanceInMe and use my writing to inspire positive changes in you life. If you feel like readig a little back-story of why I created BalanceInMe then here you go:
I am a happily married mother of two sets of twin-girls. Having twins gives my husband and me twice the joy and happiness, but it also gives us twice the worries. Now we are learning how to stay calm and not to go crazy with all parental responsibilities.
Besides from being a mother I am also a fitness enthusiast. I have spent the last 6 years teaching different types of fitness from Aerobics and Tae Bo to Yoga and Pilates.
My journey towards fit life began one great sunny day when I returned from summer camp and realized that I had gained weight (just a few extra pounds that at the time seemed like a huge burden to a 15-year-old teenage girl). That was the moment I decided that it was time to stop messing around and to start doing something about my figure. I have tried a lot of things during my journey in which some were right and some were completely wrong. I lost weight and then gained it back several times because of various mistakes that I made along the way. It was my long and winding way to a healthy and balanced lifestyle but in the end I learned what works and what doesn't.
Among the right methods that I chose was regular exercise and increasing my knowledge of health related issues (Shape magazine became my fitness bible). Among the wrong ones were very strict diets (eating nothing but raw fruits and vegetables for several months, trying to eat rice without salt for breakfast, lunch and dinner or drinking liquids instead of eating solid foods). I could keep going on about the things that I used to do to try to lose weight and methods that I chose to reach my goals, but it would probably put most people to sleep. The fact is that after many attempts I finally realized that fitness and a balanced diet is the easiest and the most effective way to great health and staying in high spirits every day.
When I was 17 I taught my first aerobics class and I loved it so much that I understood that is what I wanted to do with my life. After trying different styles of exercise in fitness I completely fell in love with Pilates (UPDATE: Pilates and web development are the roads that I am following right now) and several other Mind & Body techniques.
So in a nutshell I am just a regular girl who is health conscious and who is trying to convey her own experiences of living a busy life while staying in great shape both physically and mentally. If you are interested in this experience, please feel free to read my blog. Thanks and enjoy!